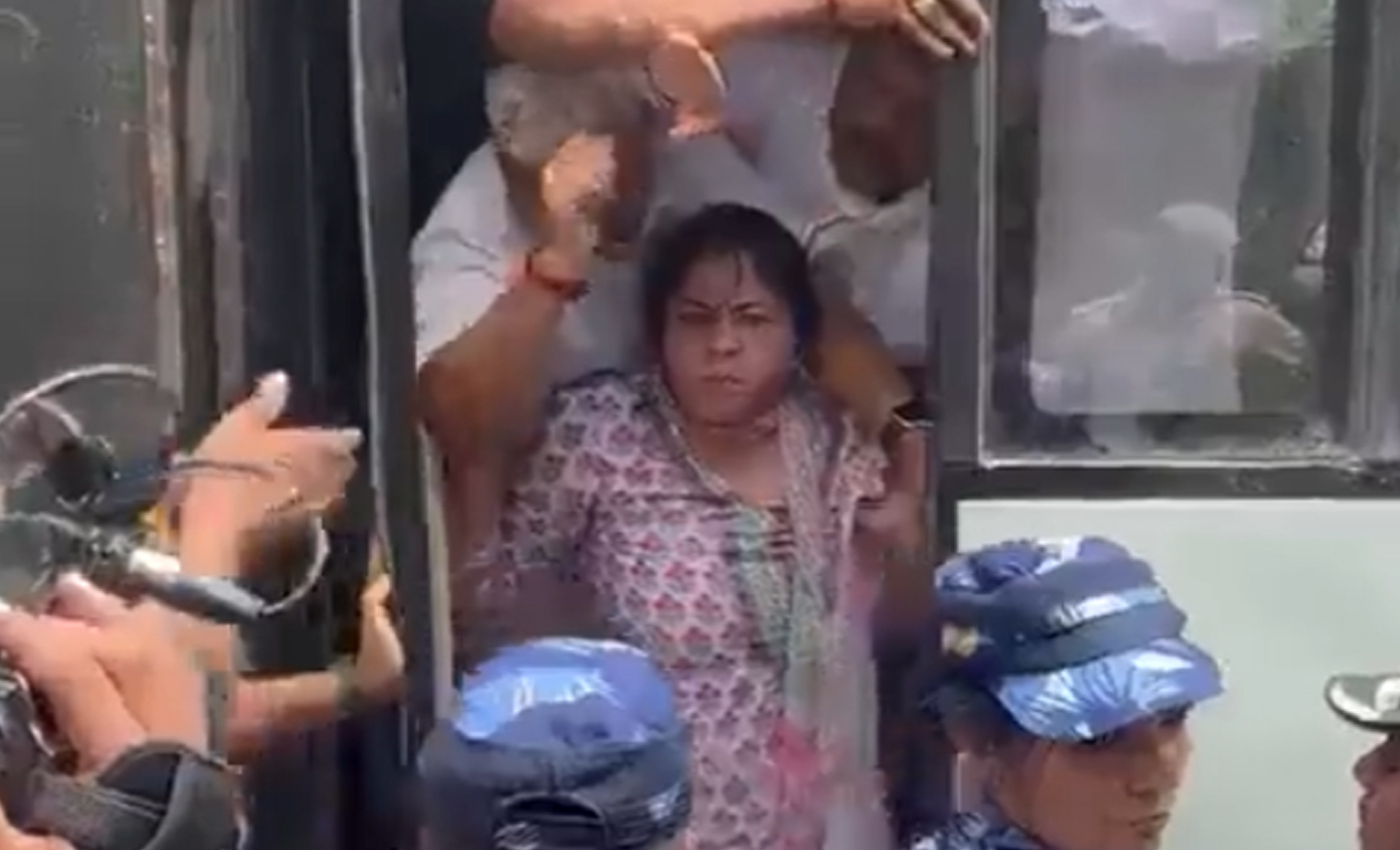 The video of Netta D'Souza spitting was taken during a protest against the ED's questioning of Rahul Gandhi, not against the Agnipath scheme.
Context:
After the Enforcement Directorate (ED) started investigating the Congress leader Rahul Gandhi's role in the National Herald case, social media was flooded with misleading posts. One such video was posted by Gajendra Singh Shekhawat (@gssjodhpur), Union Minister of Jal Shakti, on his official Twitter. The caption read, "National President of Mahila Congress Neta D'Souza, who is opposing army recruitment in the name of Agneepath scheme, is spitting on policemen." However, the footage was filmed at a protest against the ED's questioning of Congress leader Rahul Gandhi in the National Herald case and was unrelated to the Agnipath scheme.
In fact:
Through a reverse image search, we found a YouTube video published in India Today showing Mahila Congress-acting president Netta D'Souza, spitting at police while protesting in Delhi. The report mentions the protest is against the ED for questioning former Congress president Rahul Gandhi in the National Herald case.
The Hindustan Times published the same video from various tweets, reporting it was filmed on June 21, 2022. The video clip shows D'Souza spitting at police from the door of a bus. The report states she was protesting with party workers in Delhi against Rahul Gandhi's questioning at the hands of the ED. The report also mentions that the Delhi Police has yet to state the incident, and there has been no response from D'Souza and Congress.
According to the Deccan Herald, under the new Agnipath scheme, recruiting for the Army, Navy, and Air Force will be done on a short-term contractual basis for four years. A portion of the recruits would be retained in the military permanently after serving their four-year term. On June 18, 2022, youths took to the streets in large numbers to protest in the states of Bihar and Uttar Pradesh against the newly implemented Agnipath scheme by the Center.
The verdict:
Footage showing Netta D'Souza protesting Rahul Gandhi's ED inquiry was incorrectly linked to the Agnipath protest. Therefore, we have marked this claim as misleading.
Reference links
YouTube
Hindustan Times
Deccan Herald