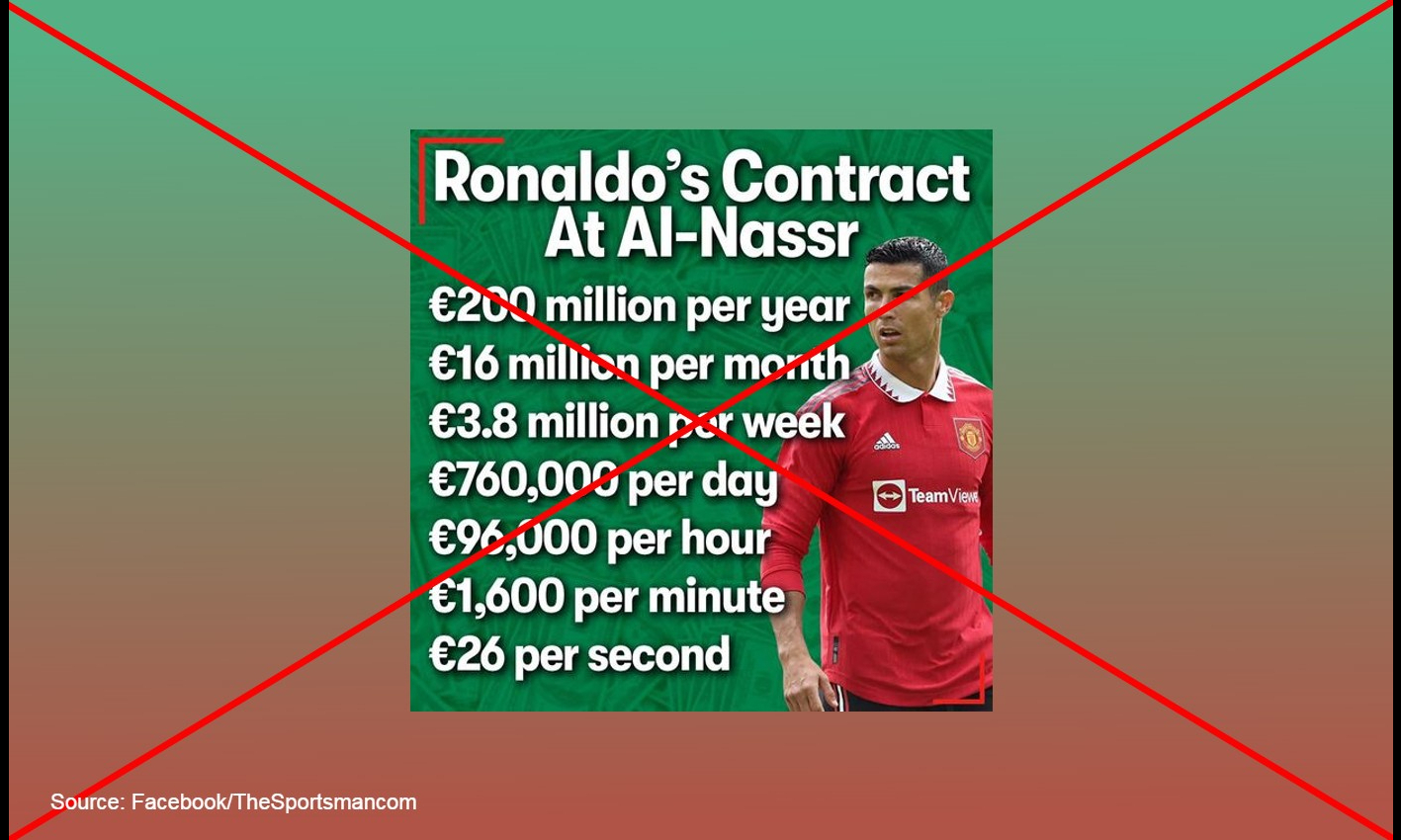 Cristiano Ronaldo dismissed reports that he agreed to a deal to join Saudi Arabian club Al-Nassr after departing Manchester United.
Editor's Note: At the time this fact check was published on December 9, 2022, Cristiano Ronaldo himself had denied that he had signed a contract with Al-Nassr, and transfer expert Fabrizio Romano had denied that any deal had been agreed behind closed doors either. On December 31, 2022, however, Ronaldo went on to sign a two-and-a-half year deal with the Saudi Arabian club which has been estimated by the media to be worth a total of more than €200 million.
Context
In November 2022, Portuguese footballer Cristiano Ronaldo criticized Manchester United's owners, the Glazers, in an interview with British journalist, Piers Morgan, saying they "do not care" about the club. Ronaldo also said he doesn't respect Erik ten Hag, Manchester United's manager. Shortly after the interview video surfaced, Manchester United issued a statement confirming that Ronaldo and the team had mutually decided to end his contract, making him a free agent.
Following this, the news that Ronaldo is set to join Al-Nassr was reported by well-known Spanish outlet Marca ahead of the Portugal captain's match against Switzerland at the Lusail Stadium in Qatar on December 6, 2022. Similarly, a Facebook post claimed that Ronaldo has agreed to a deal with Al-Nassr for €200 million per year. The post then deconstructed his salary, stating that Ronaldo's contract with Al-Nassr is €200 million per year, €16 million per month, €3.8 million per week, €760,000 per day, €96,000 per hour, €1,600 per minute, and €26 per second. This claim went viral across social media platforms, with similar posts from prominent and highly followed Instagram and TikTok accounts.
In Fact
Even though multiple media outlets reported that Ronaldo and Al-Nassr had reached a settlement, the reports have been denied by numerous sources, including Ronaldo himself. Morgan refuted reports that the two parties had struck a settlement on Twitter. Even Fabrizio Romano, a football journalist and transfer expert, asserted that no contract had been signed between Al-Nassr and Ronaldo.
Ronaldo was in Qatar with the Portugal team when the rumors of a deal with Al-Nassr first surfaced. In response to this, Ronaldo said, "No, that is not true — not true," Sportstar reported. The 37-year-old did, however, confirm that Al-Nassr approached him with an offer. He has also been linked to Sporting Lisbon of the Primeira Liga and Arsenal, the latter claiming to be eager to get Ronaldo.
In the last transfer window, Al-Nassr attempted to make a deal with Ronaldo by giving Manchester United a fee of between €30 million and €275 million, reports ESPN. Ronaldo, who sought to leave Manchester United to play Champions League football, did not accept Al-Nassr's offer because he wanted to continue playing in the league.
The Verdict
Since Ronaldo's contract with United was terminated mid-season, he is currently a free agent. Ronaldo has denied claims that he has agreed to a contract with Al-Nassr, though he has confirmed that the club has made him an offer. Therefore, the claim that Ronaldo has completed a €200 million-a-year contract with Al-Nassr is false.