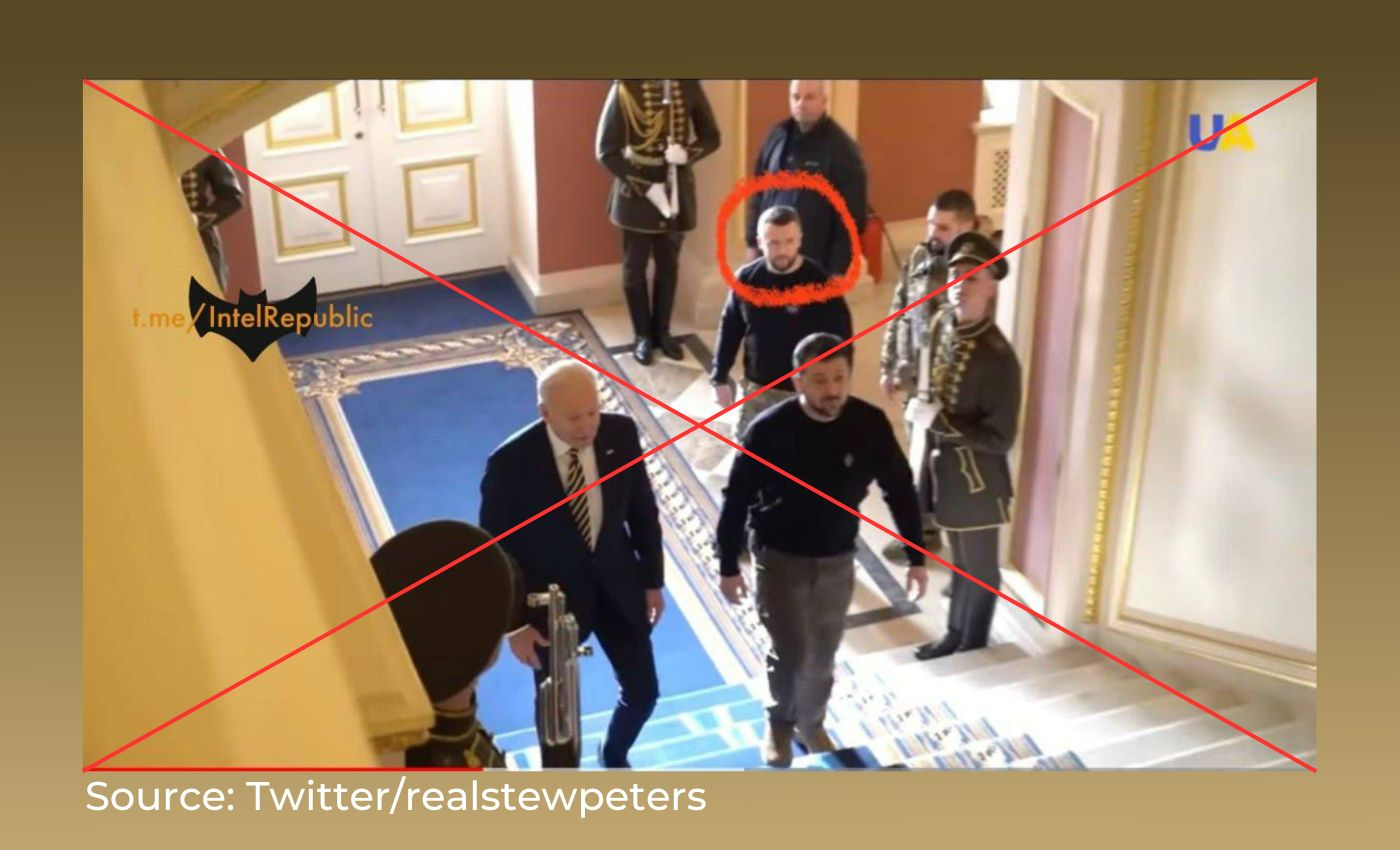 Photos claiming to be evidence of President Zelenskyy's body double are, in fact, images of his personal bodyguard.
Context
Social media users have been sharing a video and screengrabs of Ukrainian President Volodymyr Zelenskyy and U.S. President Joe Biden walking up the stairs of the Mariinsky Palace, the official residence of the President of Ukraine. The visuals show a man in an outfit seemingly matching Zelenskyy's standing behind the pair as they ascend the stairs. Facebook users have claimed this is evidence that Zelenskyy's "body double" has been captured on camera and questioned whether the Ukrainian President had himself visited warzones in the country amid the ongoing Russian invasion or whether he had deployed his "body double."
On Twitter, this claim was also amplified by Stew Peters, a personality known for spreading conspiracy theories, who tweeted the same picture and video on February 26. The picture he shared included a red circle around the man behind the two presidents. In a thread, he tweeted the same video and wrote, "Here's the video. A glitch in the Matrix?" Many others shared the same visuals with similar claims.
However, the man seen in these visuals is President Zelenskyy's personal bodyguard, not his body double.
In Fact
We ran a reverse image search on the viral video and screenshots and found that the original footage was published on Polish tabloid outlet Fakt's YouTube channel on February 20, when Biden made a surprise visit to Kyiv. This original video is of better quality, which highlights a significant difference between Zelenskyy and the man behind him. Zelenskyy can be seen wearing a plain set of trousers, while the other man appears to be in military fatigues.
We searched for the images from the day of Biden's visit on the stock image website Getty Images and found several showing the same man next to or behind Zelenskyy. However, he does not resemble Zelenskyy in any way to justify the claim that he is the president's body double.
Further, we found that this man is Zelenskyy's bodyguard, identified as Maksym Donets, in an article published by Poland Posts English in June 2022. The article includes an image showing former U.K. Prime Minister Boris Johnson, Zelenskyy, and his bodyguard Donets. Reuters reported on Zelenskyy hiring Donets in May 2019. It said that Zelenskyy appointed Donets as the head of the president's personal bodyguard team and deputy head of Ukraine's department of state protection.
We found more official images of Biden's visit to Kyiv, Zelenskyy, and his personal bodyguard on the U.S. Department of Defense and the official website of the President of Ukraine. In all these images from different events, Donets has a broader forehead, shorter nose, and usually a shorter haircut than Zelenskyy. The two men have different jawline structures, and their ears are shaped differently.
On Twitter, disinformation journalist Shayan Sardarizadeh called out Peters for his tweet and shared several other photos of Zelenskyy and Donets, all showing no resemblance between the two men.
Logically has previously debunked several pieces of misinformation Stew Peters has propagated, ranging from many COVID-19 vaccine-related topics to the recent train derailment in Ohio. Other claims, such as the war in Ukraine being fake and that Zelenskyy has fled war-torn Ukraine and delivers warzone speeches in front of a green screen, have also been debunked.
The Verdict
Visuals of Zelenskyy with his personal bodyguard have been shared with an incorrect claim that cameras had finally captured the Ukrainian president's body double. Therefore, we have marked this claim as false.