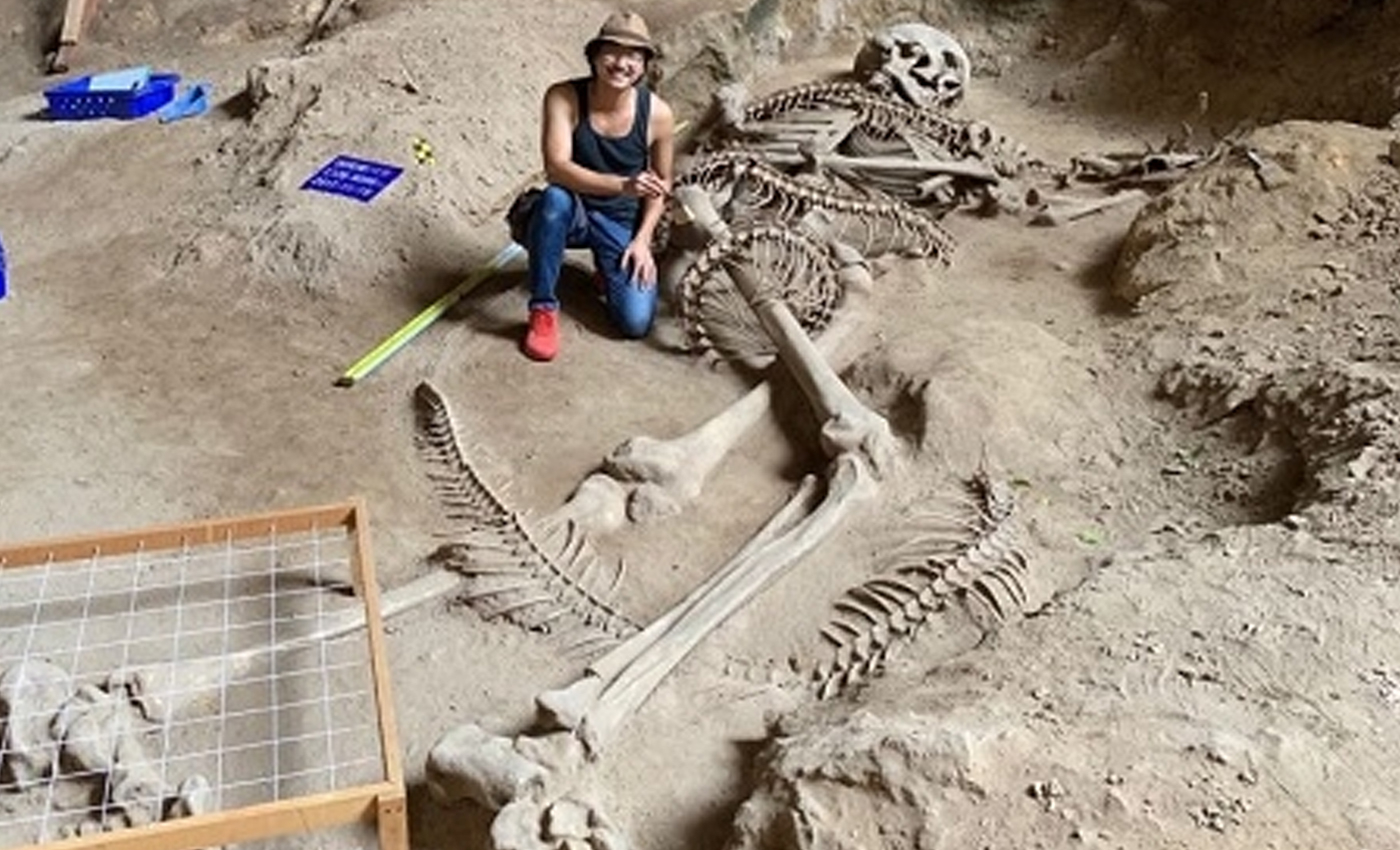 The images are part of a Taiwanese art installation and do not show genuine fossils.
An image has been shared on social media claiming that an archeologist has discovered a giant human-like skeleton alongside the bones of a large snake wrapped around it. This image has been circulating for several years, but recently a Facebook page named "UFO Disclosure & Mystery Of Space" shared it again The caption for the image claims that giants once walked the earth before humans did, suggesting that the image shows the fossil of an actual giant. The Facebook post has garnered more than 500 shares and 2,000 likes. However, the claim is false.
We found many similar images of the enormous fossil-like structure via a reverse image search. According to an article published in Taiwan Today on November 6, 2018, the giant structure was an art installation. The article shared a similar image as seen in recent Facebook posts. It stated that the bones of the giant skeleton are made up of plastic and were created by Taiwanese artist Tu Wei-Cheng in Krabi.
In 2018, the Ministry of Foreign Affairs of Taiwan published an article about two large-scale installations by Taiwanese artists. One is Tu Wei-Cheng's "Giant Ruins," which exhibited the bones of a giant and a serpent. The other is from artist collective LuxuryLogico's "Voyage in Time," which exhibited a long tail boat. Both artworks looked like an excavation site. The art piece was given special clearance to be displayed at the Khao Khanab Nam Caves in Krabi.
Humanoid giants are not real. Their origins are mainly found in folklore, mythologies, and fairytales from around the world. There is no proof of their existence.
In 2018, Taiwan's Ministry of Culture (MOC) released a report announcing that the art installation by Tu would be displayed at Thailand's inaugural art exhibition, Thailand Biennale, which took place in the southern province of Krabi from November 2, 2018, to February 28, 2019. It added that "Tu explores the boundaries between the realms of real and fictional to rethink history."
On January 17, 2019, Tu Wei-Cheng posted a video on YouTube documenting his work inside the cave. He said his inspiration for the artwork came from a myth about "a giant and a giant boa in battle." He further stated that the form of the giant, which is 6.5 meters tall, was inspired by Hindu demon(s) or asura. The long serpent or naga is 12 meters long.