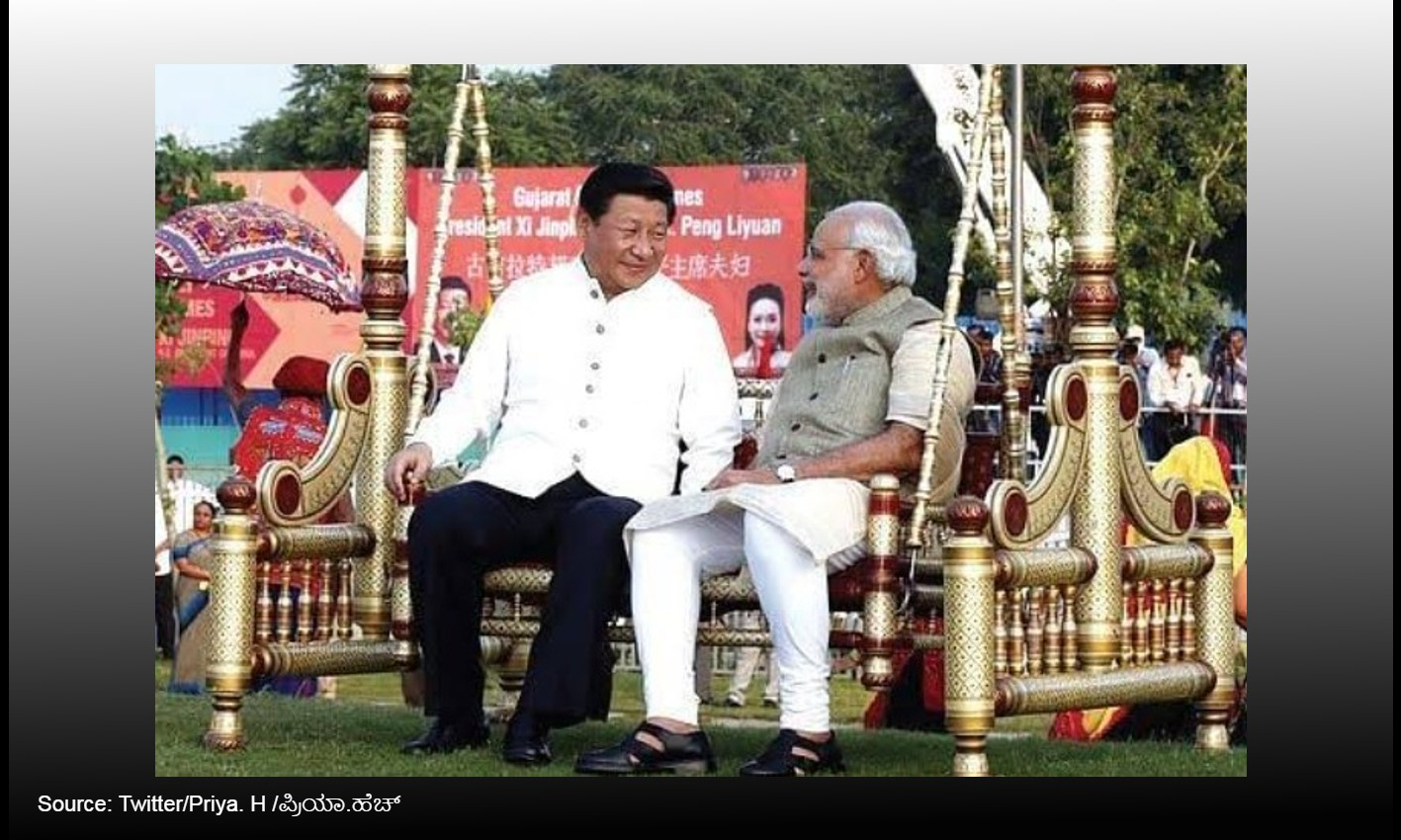 A 2014 image of Jinping and Modi on a traditional swing on the Sabarmati Riverfront in Ahmedabad has circulated with a false narrative.
Context
On December 9, 2022, conflict occurred between personnel of the Indian and Chinese armies in the Tawang area of India's Arunachal Pradesh state, according to the Indian Army. Both Indian and Chinese forces suffered minor injuries, Reuters reported, and following the event, the area's commander met with his Chinese counterpart to discuss the situation, Reuters reported.
After this incident, many false images and videos started circulating on social media. One such image was posted on Twitter on December 17, 2022. The caption, translated into English, reads: "Fakirendra is busy playing swings while Chinese soldiers are intruding into the country's borders." In the image, Indian Prime Minister Narendra Modi is seen sitting with Chinese President Xi Jinping on a swing.
However, this claim is false. The photo was not taken following the India-China border incident in Arunachal Pradesh in December 2022. The image is from 2014.
In Fact
Through a Google reverse image search, we found that the photograph of Narendra Modi and Xi Jinping is from the latter's visit to India in 2014. Jinping had visited Sabarmati Ashram, the home of Mahatma Gandhi, during his three-day trip to Gujarat, reported India Today. He also had a private supper at the Sabarmati riverfront Park, which Modi built when he was Gujarat's chief minister. We found the now-viral image on Communist Party of China (CPC) News, a Chinese news website, on September 18, 2014. The caption, translated from Chinese, reads: "On September 17, Chinese President Xi Jinping, accompanied by Indian Prime Minister Narendra Modi, visited Gujarat. This is the cordial conversation between Xi Jinping and Modi when they visited the riverbank park development project."
This image was also shared on September 17, 2014, by Press Information Bureau's official Twitter handle, with the caption, "PM @narendramodi and Chinese President, Xi Jinping at Sabarmati Riverfront in Ahmedabad. #INCHtowardsMILES."
The Indian Express also published a similar image on September 18, 2014, with the caption: "Prime Minister Narendra Modi and Chinese President Xi Jinping sitting on a traditional swing on the Sabarmati riverfront in Ahmedabad on Wednesday." Multiple photographs from Jinping's Sabarmati visit were published in the article.
Through a keyword search, we found that Narendra Modi's official YouTube channel had also posted a video of Jinping's visit on September 17, 2014. At 0:56 seconds, we can see Xi Jinping and Modi sitting and conversing on the swing. Their attire, as well as the swing they are sitting on, match the now-viral image. Therefore, this confirms that the image is from 2014, not 2022.
The Verdict
An eight-year-old image of Xi Jinping's visit to Ahmedabad has been reshared with a false claim. There is no evidence that Modi and Jinping had any in-person meetings after the India-China troops clashed at Arunachal Pradesh on December 9, 2022.