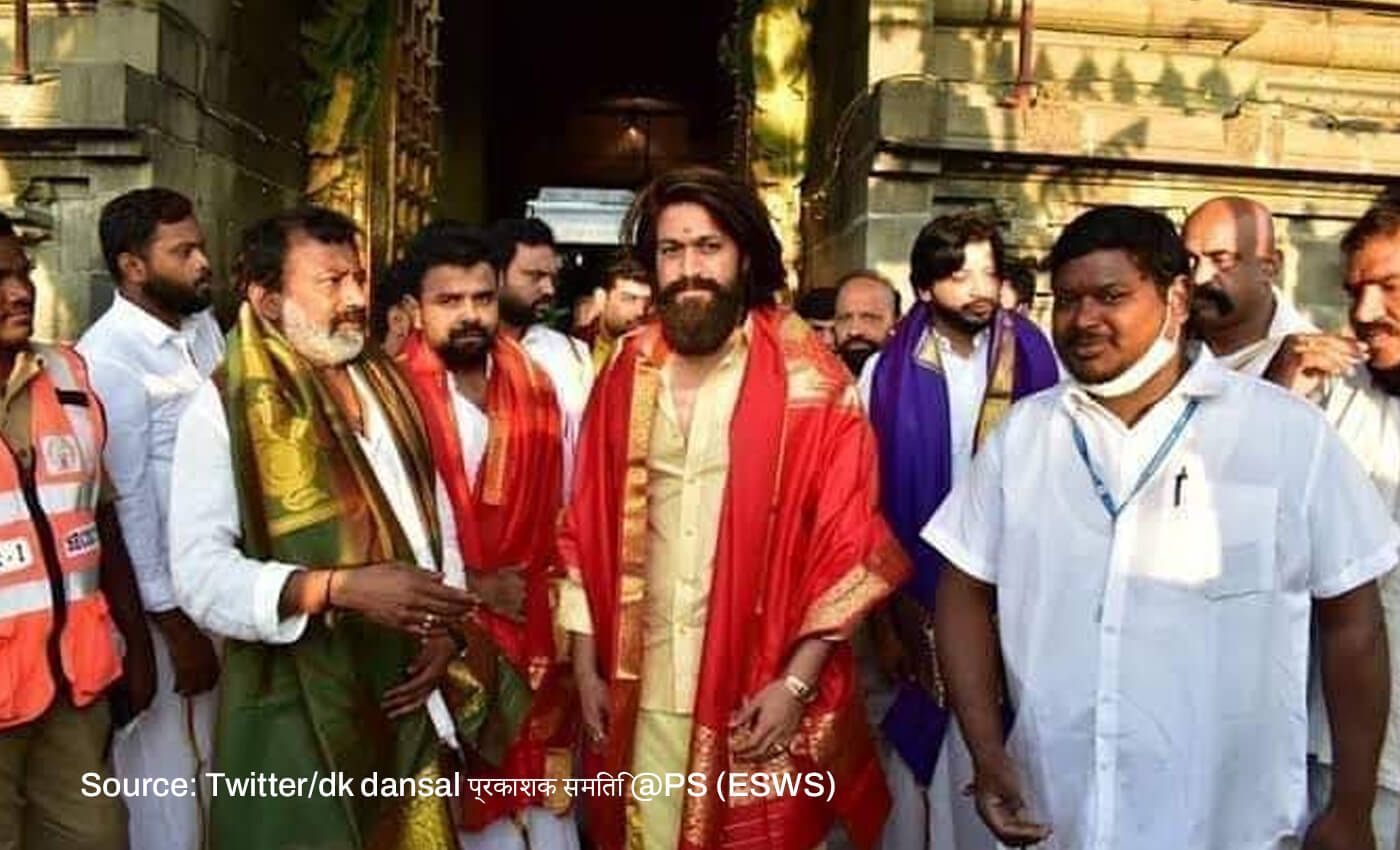 No such announcement has been made by the actor. The artist had recently visited Tirupati temple and not Ram temple in Ayodhya.
Context:
While many people from the Indian film industry had shared their wishes when Prime Minster Narendra Modi laid the foundation stone for the construction of Ram Mandir in Ayodhya in August 2020, a post shared on social media has recently claimed that Kannada actor Yash (Naveen Kumar Gowda) visited Ayodhya and announced a donation of ₹50 crores for the temple's construction. A Twitter user @dansal_dk posted an image of the actor making these assertions. The post has an image of Yash wearing a silk shirt, shawl, and dhoti ( a sarong-like cloth item for men), with others seemingly in front of a temple. This post comes in light of Yash's latest release, KGF: Chapter 2's success in the country.
In fact:
On conducting a reverse image search of the viral image, we were led to various reports on Yash visiting the Tirupati temple in Andhra Pradesh. It is evident that the image accompanying the post in question was perhaps taken during his visit to the Tirupati Thirumala temple and that it is unrelated to the Ram Mandir.
On April 12, 2022, India Today reported that the actor visited Tirupati and Simmachalam temples. It states that Kannada superstar Yash had been busy promoting his upcoming film, KGF: Chapter 2, in different cities throughout India, and during his visit to Andhra Pradesh, he visited Tirupati and Simmachalam temples. The report says that photos and videos of the actor offering prayers to the deities had gone viral on social media.
The Indian Express published a report on April 12, 2022, carrying a similar image as the one in the viral post, and mentioned that the actor visited the Tirupati temple before his film release. On checking the actor's official social media accounts, we found no relevant information about the actor's visit to Ayodhya. We also did not find any report of Yash going to Ayodhya or donating to the Ram temple's construction. None of the mainstream media has covered any reports regarding the actor making such an announcement. We tried reaching out to the actor but haven't received a response yet. We will update the story as and when we receive a response. Fact-checking website, Factly, among many others, has also debunked this claim and found no evidence of the Kannada actor making any such announcement.
The verdict:
The claim being made on social media about Indian actor Yash announcing a huge donation for the upcoming Ram temple is false. The photo of Yash is from Tirupati temple.
Reference links
India Today
The Indian Express
News18
Factly