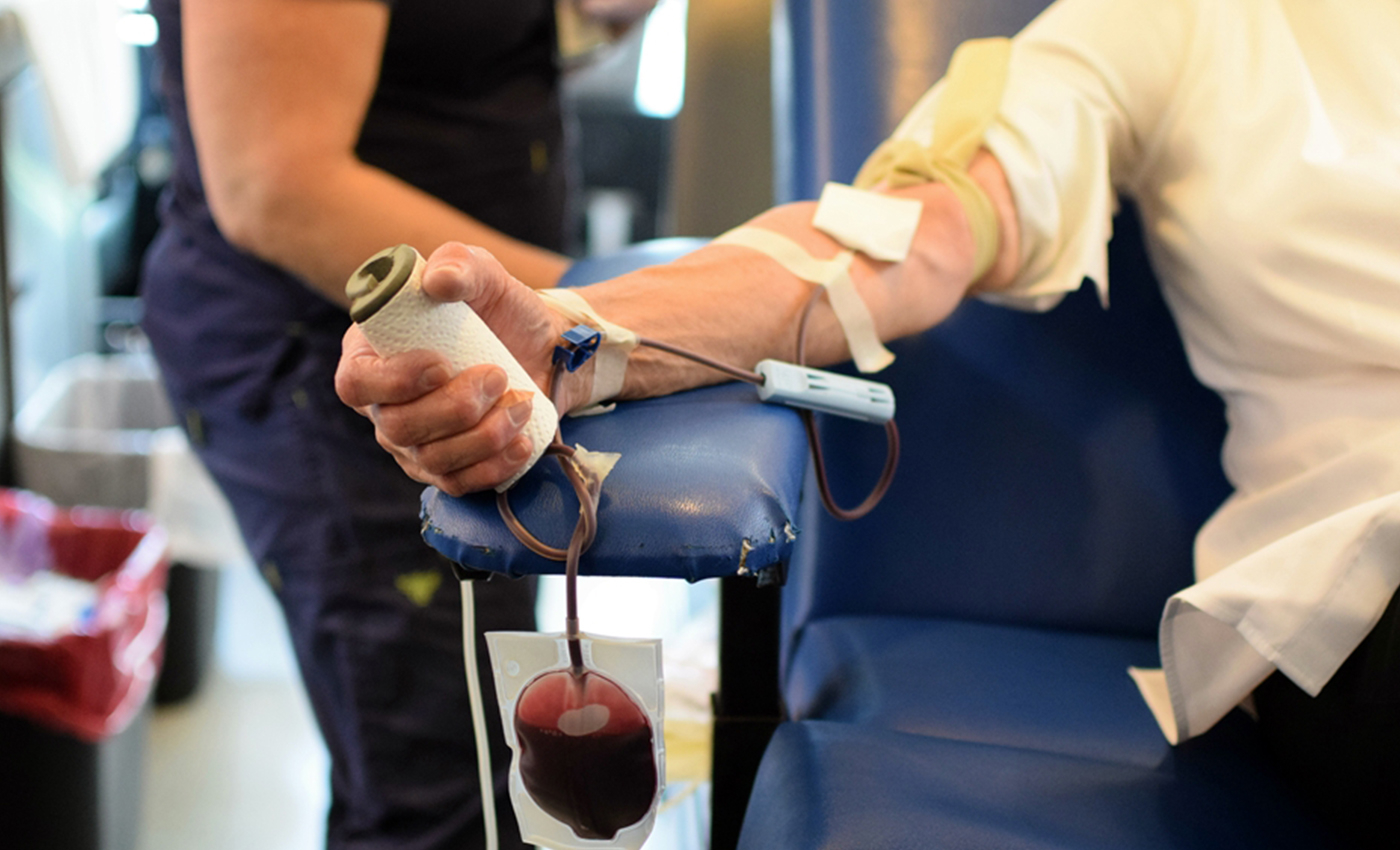 Accepting blood donations from vaccinated people is safe.
A clip from conspiracy theorist Stew Peters' show, featuring Dr. Jane Ruby, has been shared on social media. The clip presents multiple false or misleading claims about vaccines in a Q&A format with Dr. Jane Ruby. She is not a medical doctor but instead holds doctorates in Education and Psychology. In the segment, Dr. Ruby fields questions from Stew Peters' audience about vaccines. One question pertains to the safety of accepting donated blood or plasma from people who have been vaccinated. Dr. Ruby and Peters agree that this is dangerous. Dr. Ruby states that "we don't even know what's fully in the blood of injected people." She also alleges that "materials" have been found in the blood of unvaccinated people that have been in contact with vaccinated people.
This claim insinuates a harmful transference from vaccinated to unvaccinated, which is in keeping with other COVID-19 conspiracies such as "vaccine shedding." Peters makes the additional related claim that he gets headaches after spending time with vaccinated people. Dr. Ruby criticizes what she considers to be a lack of safety protocols concerning blood from vaccinated people within organizations such as the American Red Cross. The American Red Cross accepts blood from vaccinated people, as long as they are not showing symptoms of COVID-19, and can provide the name of the vaccine they received.
There has been no credible evidence that blood donated from a vaccinated person is dangerous. However, different countries have their own protocols for donating blood after receiving a COVID-19 vaccination. For example, in the United States, the Food and Drug Administration (FDA) does not recommend any wait time between being vaccinated and donating blood, unless the recipient was given a live-attenuated viral COVID-19 vaccine – for example the AstraZenenca produced vaccine, or any other non-mRNA vaccine – in which case a 14 day waiting period is recommended. The National Health Service (NHS) in the United Kingdom recommends waiting 48 hours to donate blood after being vaccinated because of frequent side effects such as headaches or fevers. Donated blood is screened and tested for safety before transfusion.
Since the emergence of vaccines for COVID-19, conspiracy theories around supposed horrific side effects have proliferated online, including several related to blood donation and its supposed risks. For example, older conspiracies from 2021 claimed that blood taken from vaccinated people has a different appearance to that taken from unvaccinated people, or vaccines cause "blood anomalies." This claim was made during another segment of the Stew Peters show, which also featured Dr. Jane Ruby. All of these claims have been debunked.
The claim that receiving a blood donation from a vaccinated person is dangerous is not supported by medical science. Blood donations from vaccinated people are safe.
The COVID-19 pandemic has given rise to a lot of potentially dangerous misinformation. For reliable advice on COVID-19, including symptoms, prevention, and available treatment, please refer to the World Health Organization or your national healthcare authority.