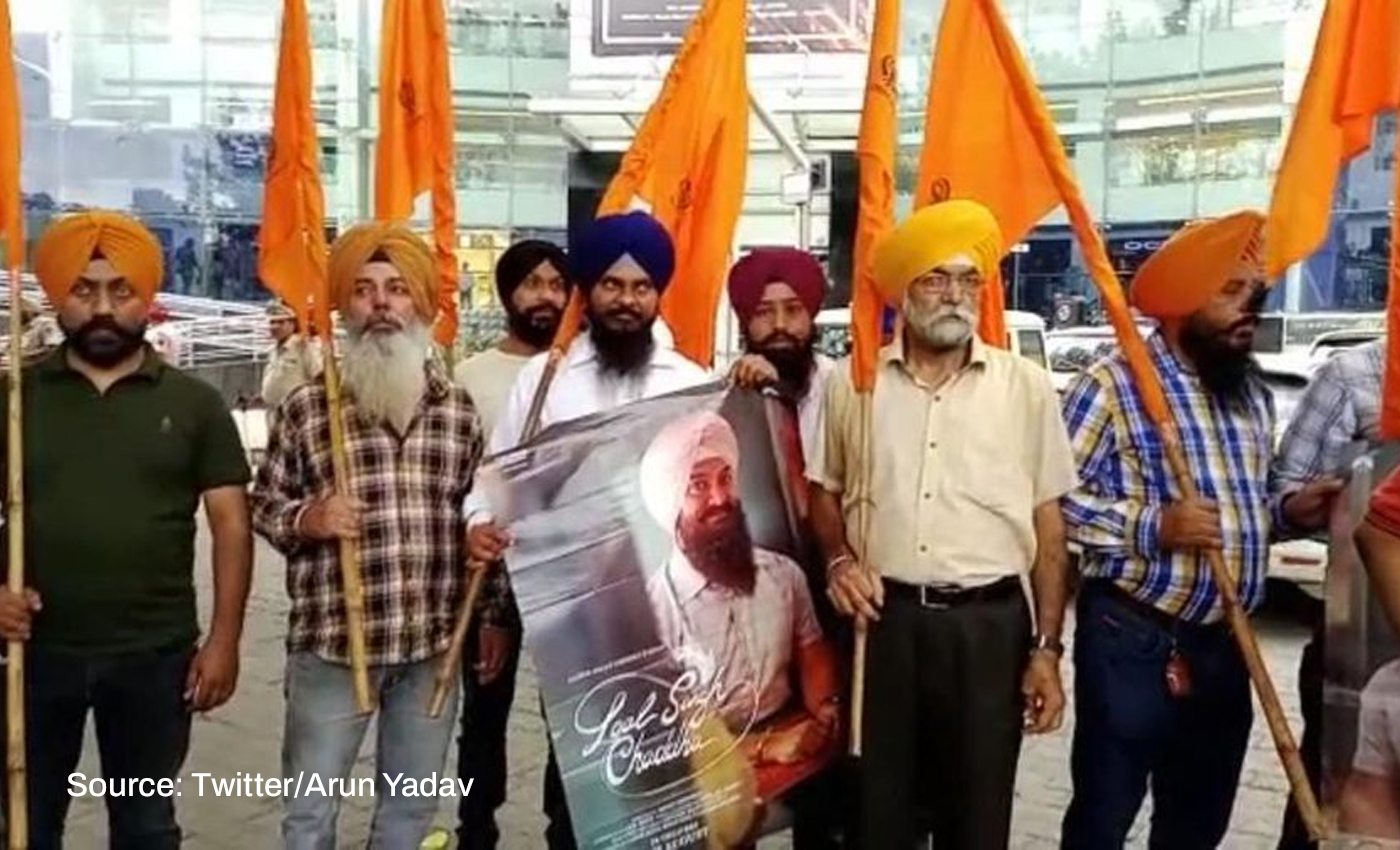 The viral photo depicts Sikh groups demonstrating in support of actor Aamir Khan's film and not against it. Slogans were raised in favor of the film.
Context:
A viral post on Twitter shows a group of Sikh men holding what appears to be the 'Nishan Sahib' (holy flag of the Sikhs) and a poster of the film Laal Singh Chaddha. The post claims the men were protesting against Bollywood actor Aamir Khan's latest movie. The photo description read, "Protest against Laal Singh Chaddha in Jalandhar. People shout slogans against Aamir Khan". The caption was originally written in Hindi. The posts came out at a time when calls of 'Boycott Laal Singh Chaddha' had been gathering pace on Twitter.
According to The Indian Express, on August 12, 2022, the film, which also features Kareena Kapoor Khan in the lead role, faced protests from some right-wing Hindu organizations in Jalandhar, Punjab, as they accused Aamir Khan's 2014 'PK' of hurting the sentiments of Hindus. The actor was accused of "insulting" Hindu Gods in the film directed by Rajkumar Hirani. According to the report, right-wing groups led by Shiv Sena reached PVR cineplex in Jalandhar and urged the management to stop the screening of Laal Singh Chaddha—the Hindi adaptation of Tom Hank's 1994 classic 'Forrest Gump'.
In fact:
The Indian Express report claimed that after finding out about the protest by Hindu extremist groups against Laal Singh Chaddha, some Sikh organizations came out in favor of the movie. They told the media that Hindu organizations didn't have the right to stop the release of the movie as it was based on the life of a Sikh man.
We also found a video of the protest posted by NDTV journalist Mohammad Ghazali on August 11. The viral picture in question appears to have been picked up from the video. We can see members of the Sikh Talmel Committee gathered in support of Khan's movie in the video.
A news video report by the YouTube channel of Hindi publication Jansatta also mentioned that the Sikh committee was in favor of screening the movie. In early August, Shiromani Gurdwara Parbandhak Committee (SGPC), the Sikh religious body, had given clearance to the movie after it was screened by the producers before its release in cinemas.
Calls of boycotting the film had been trending on Twitter weeks before its release following which Aamir and Kareena Kapoor Khan had appealed to the masses to watch the film in theaters. Various other film personalities had also come in support of the film. Currently, calls of boycotting Taapsee Pannu's 'Doobaaraa' are doing rounds on social media.
The verdict
Even though there were protests against Aamir Khan's movie by some right-wing Hindu organizations, the viral image in question shows members of a Sikh organization holding a demonstration in support of the film. Hence, we have marked this claim false.
Reference links
The Indian Express
Twitter
YouTube