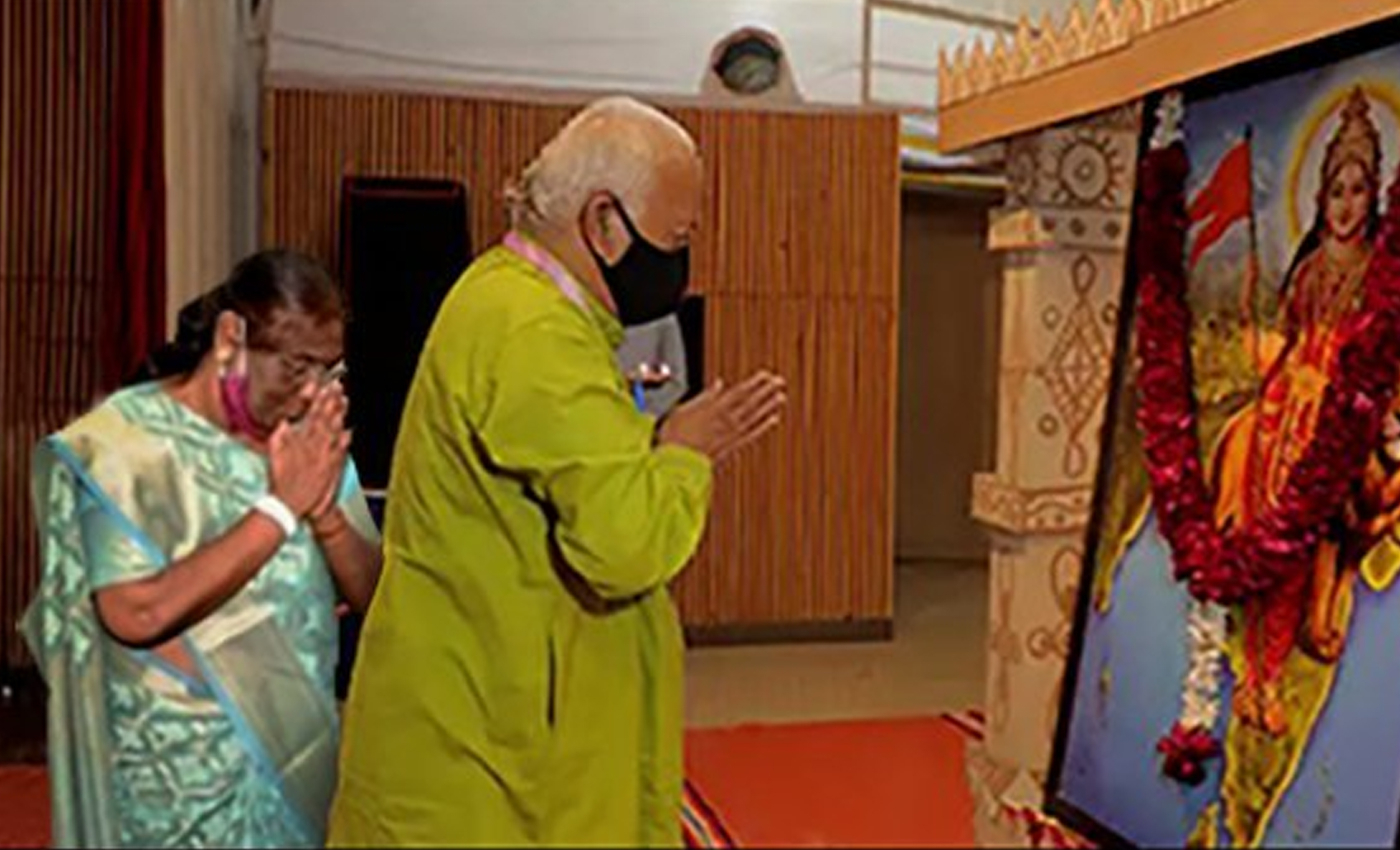 Two images from different events were photoshopped to appear as though Draupadi Murmu and RSS chief Mohan Bhagwat met at RSS headquarters in Nagpur.
Context:
Draupadi Murmu, a tribal leader from Odisha, was named the ruling National Democratic Alliance's (NDA) candidate for the 2022 Presidential election. Days ahead of the Presidential election in the country, social media saw a surge of misleading and false information relating to the appointment. One such post was from Prashant Bhushan - an Indian lawyer in the Supreme Court of India. The post caption reads, "BJP's presidential candidate Draupadi Murmu visits Mohan Bhagwat at the RSS headquarters in Nagpur! Is there any doubt that she will just be a rubber stamp and not be able to function independently?". However, the photo has been doctored and is a composite image of two separate pictures of the individuals.
In fact:
On conducting a reverse image search, we found the picture is two photos of separate origins. We separated the images and completed a reverse search on Mohan Bhagwat's image. The official Twitter account of Rashtriya Swayamsevak Sangh (RSS) showed a similar photo dated March 11, 2022. It was taken during the All India Pratinidhi Sabha of RSS held in Karnavati, Gujarat. The image depicted Bhagwat joining hands in front of the Goddess with Sarkaryavah Shri Dattatreya Hosabale, dressed in white and standing behind him, in the position that Murmu can be seen in the doctored viral photo.
We conducted a reverse image search on Draupadi Murmu's image, which led us to the Chief Minister of Jharkhand, Hemant Soren's Twitter account, and found the same photo of him greeting Murmu. He tweeted this photo on December 29, 2020, with a caption that reads, "Today, on the occasion of completion of one year of Jharkhand Government, met Governor Smt. Draupadi Murmu ji at Raj Bhavan." Comparing Murmu's attire and her gesture to the viral picture confirms that the image of Murmu from 2020 has been photoshopped.
The verdict:
The picture of Murmu taken in 2020 has been composited with a picture of Bhagwat taken in 2022. There are no reports on Draupadi Murmu meeting Mohan Bhagwat in 2022. Hence we have marked this claim as false.
Reference links
Twitter
Twitter