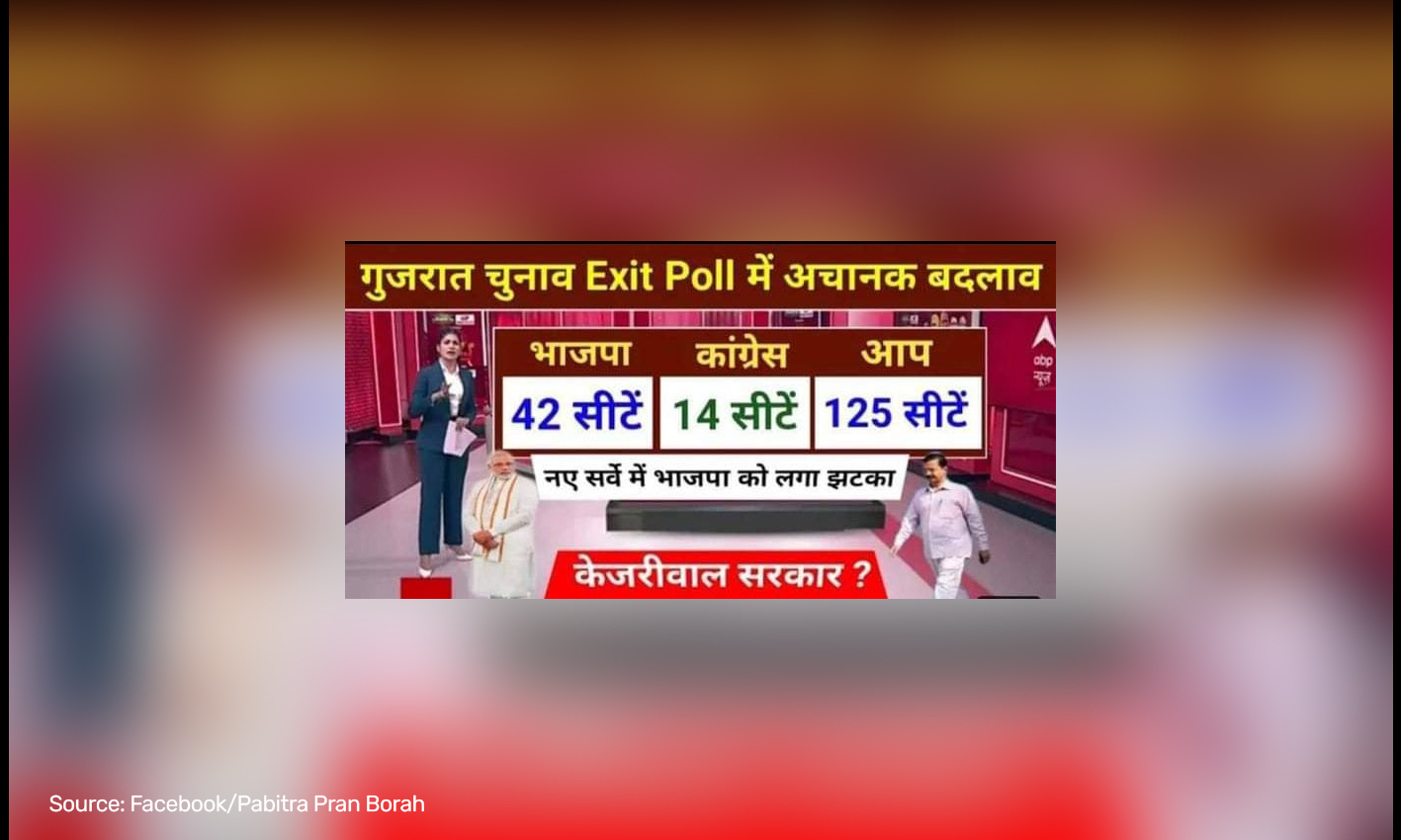 Exit polls are yet to be conducted as the elections are scheduled to be held in December. An altered image has been shared with false claims.
Context
Assembly polls in Gujarat are scheduled to be held in two phases on December 1 and 5, and the results will be announced on December 8. Social media has been flooded with posts making false claims ahead of the upcoming elections in the western state. One such post on Facebook claimed that exit poll data shows the Aam Aadmi Party (AAP) could win 125 seats in the Gujarat assembly election. The image in the viral post shows exit poll data which indicates that BJP will take 42 seats, Congress will take 14 seats, and AAP will take 125 seats. The claim in the viral post is false, as votes have not yet been cast.
In Fact
Exit polls are conducted in various polling stations after voters have cast their votes. The Gujarat polls have yet to take place and are scheduled to be held on December 1 and 5.
The image in question has the ABP News logo and the clip of the news anchor. Keyword searches led us to a video of an ABP C-Voter survey conducted in October 2021 for the 2022 assembly elections in five states. ABP News journalist Rubika Liyaqat is seen presenting the data in the original video. We found similarities between the viral image and the ABP News video, as the anchor, the sponsors, and the organization logo are the same and located in the same places in both visuals.
According to a recent ABP C-Voter opinion poll for the 2022 Gujarat assembly elections, AAP is to gain 7 to 15 seats, BJP is to win 131 to 139 assembly seats, and Congress will get 31 to 39 seats. The data suggest that AAP will gain 20.2 percent of the vote share in the upcoming elections in the western state. Congress is expected to gain 29.1 percent vote share, and the ruling party BJP is projected to gain 45.4 percent of the vote share.
Assembly elections were held in Uttar Pradesh, Punjab, Uttarakhand, Manipur, and Goa between February 10 to March 7 this year. BJP retained power in Uttar Pradesh, Uttarakhand, Goa, and Manipur, while Congress lost in Punjab as AAP swept the state with 91 out of the 117 seats.
The Verdict
Exit polls for the Gujarat assembly elections have yet to be conducted, as the polls are scheduled to be held in the first week of December. A photoshopped screenshot of a 2021 opinion poll for a different election was shared as exit poll results for the upcoming 2022 Gujarat election. Therefore, we have marked this claim as false.