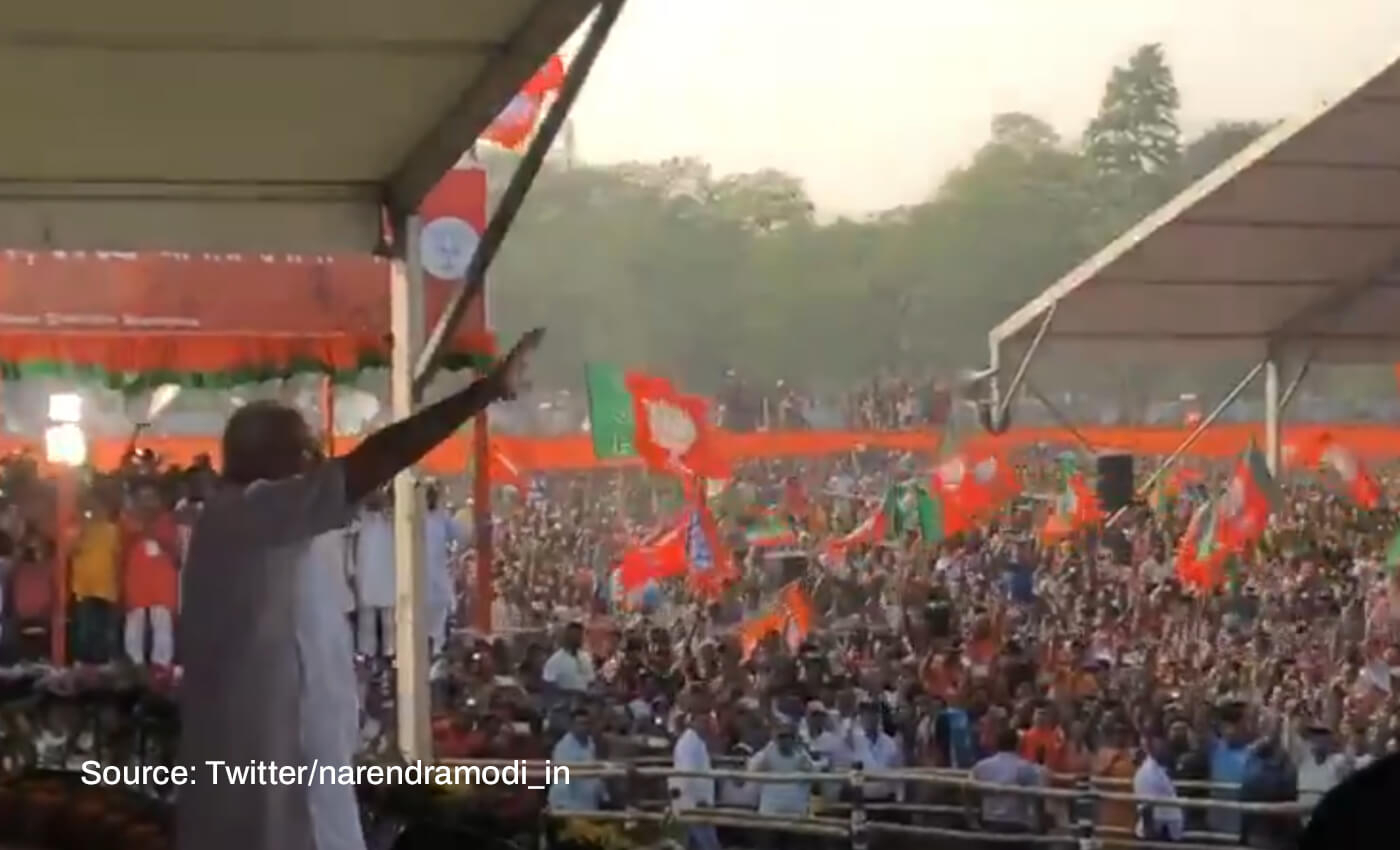 A video of Modi's election rally from 2019 in Kolkata is being wrongly linked to his recent visit to Mangaluru.
Context:
A video being shared with the claim that Indian Prime Minister Narendra Modi is interacting with a massive crowd in Mangaluru, Karnataka. The claims around this video assert that PM Modi still enjoys an unprecedented following among the public. Recently, PM Modi visited Mangaluru to flag multiple government projects and the viral video is being shared in this context. In the 30-second video, Modi is seen waving his hand at a crowd standing on a stage. The caption of the post read, "PM Modi ji grand rally in Mangalore..We don't think any leader has got so much public support."
In fact:
A reverse image search revealed that BJP's official Twitter handle had shared the same video on April 3, 2019. The tweet's caption read, "Electrifying atmosphere at PM Shri @narendramodi 's public meeting in Kolkata. #DeshKeLiyeModi."
According to News18, on April 3, 2019, Narendra Modi addressed a public rally at Brigade Parade Ground in Kolkata ahead of the 2019 Lok Sabha elections. Many BJP leaders, including Kailash Vijayvargiya and Dilip Ghosh, were at the rally. This story includes numerous photos from the event, where Modi's clothing is consistent with the viral video. In the second, sixth, eighth and twelfth images, Modi can be seen waving at the crowd. Hence it confirms that the video in question is from the Kolkata election rally, not Mangaluru.
Modi's speech at the Mangalore flagging-off event was broadcasted live from BJP's Twitter handle on September 2, 2022. We compared the viral video with the PM's Mangalore rally video and found that the two videos are not the same. Multiple dissimilarities were noted, from Modi's attire to the crowd cheering for the leader.
According to Press Information Bureau, Prime Minister Narendra Modi laid the foundation for industrialization and mechanization projects worth over Rs 3,800 crores in Mangaluru.
The verdict:
A 2019 video of Narendra Modi's rally in Kolkata was falsely shared as a clip from PM's recent Mangalore visit. Hence, we mark this claim as misleading.