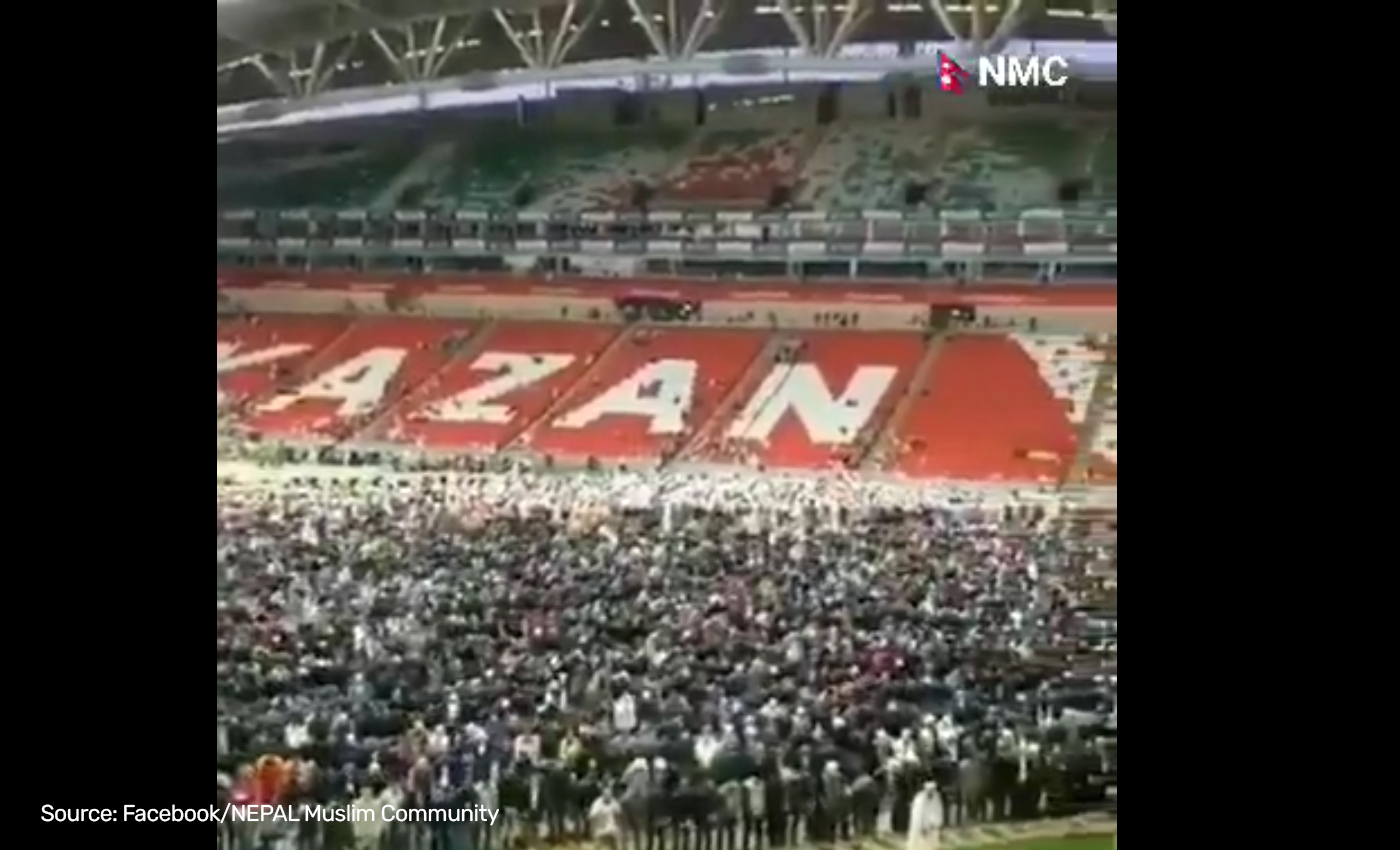 A video of Iftar prayers offered at a stadium in Kazan, Russia in 2019 has been falsely linked to the 2022 FIFA World Cup in Qatar.
Context
The FIFA World Cup kicked off on November 20, 2022 at the Al Bayt Stadium in Al Khor, Qatar. Following the opening ceremony, several misleading videos and false narratives related to the biggest football tournament started making rounds on social media platforms. One video of several people offering Namaz (Islamic prayer) at a stadium is being shared as a clip from the 2022 FIFIA World Cup in Qatar. One Twitter post shared the video with the description, "Namaz (Pray) in Qatar Football Stadium, Subhan Allah", another tweet sharing the video with a similar claim and hashtags such as #FIFAWorldCup2022 has been liked by over 3,000 likes.
In Fact
On a closer look at the video, we noticed that the seats in the stadium have the words 'KAZAN' written over them. Kazan is the capital of Republic of Tatarstan in Russia.
A Google search using relevant keywords led us to the Republican of Tatarstan's official website. The website had shared the same viral video captioned 'VII Republican Iftar' (originally written in Russian). Iftar is the evening meal with which Muslims break their fast during Ramadan. The meal, which is often a collective event, is usually followed by prayers.
The Ak Bars Stadium, previously known as Kazan Arena, which has hosted several international sports events is located in Kazan,Tatarstan. According to the official website of Kazan's mayor Ilsur Metshin, Kazan Arena hosted the VII Republican Iftar on May 25, 2019. The website further said that the event was presided over by Republican of Tatarstan's president Rustam Minnikhanov and other government officials. Tatarstan has hosted the Republican Iftar since 2013.
The Message of Islam's YouTube Channel and NEPAL Muslim Community's Facebook Page posted the same video in June 2019. Both the posts also claimed that the footage was from Kazan Arena/Ak Bars Arena stadium in Kazan, Russia.
The Verdict
A video of Iftar prayers held at Kazan stadium in Russia in 2019 has been wrongly shared as a clip from the opening ceremony from the ongoing FIFA World Cup in Qatar. Therefore, we marked this claim false.