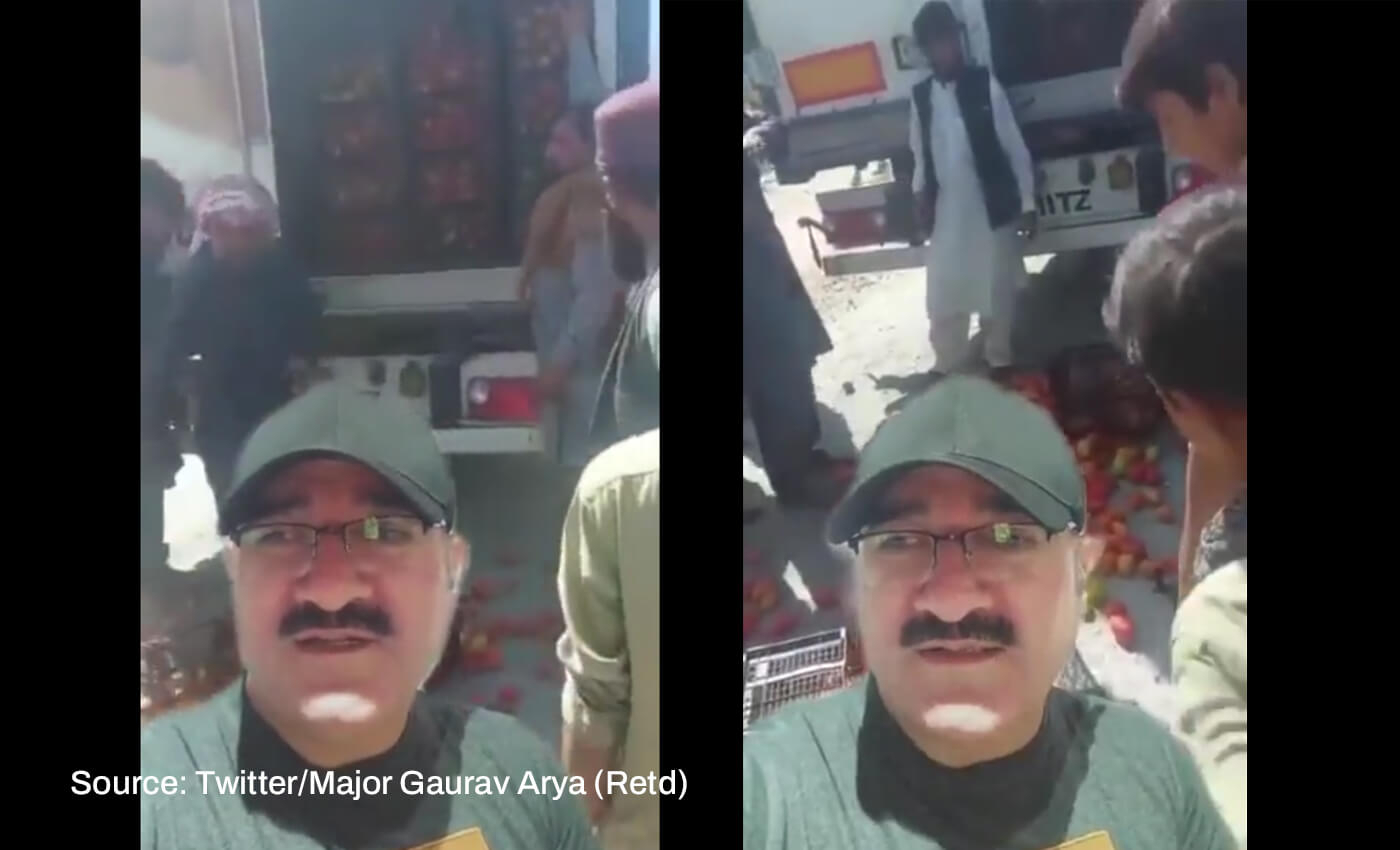 Pakistani farmers destroyed imported tomatoes over concerns they would lower the price of local produce. There was no sectarian angle involved.
Context:
A video of some people tossing away crates of tomatoes from a truck is being shared as Pakistanis destroying the fruits as they were imported from Iran and therefore were Shia in nature. Shia and Sunni are two main branches of Islam and have different beliefs regarding some postulates. Pakistan is a Sunni majority nation, while Shias represent most of Iran's population. According to the 2017 provisional census estimates, 96 percent of the nation's population is Muslim in Pakistan. Sunnis are generally believed to comprise 80-85 percent of the Muslim population, while Shias make up the remaining 15-20 percent.
The viral video shows a man, edited into the frame, narrating what is happening and commenting on how the tomatoes are being thrown away because they are from a Shia-majority country and, therefore, Shia in nature. He laments that food is being wasted when so many people are going hungry and appeals for such wastage not to continue. The clip is viral on both Twitter and Facebook. Among those sharing the video with this narrative are Major Gaurav Arya (Retired), Senior Consulting Editor, Strategic Affairs at Republic TV, who has a verified handle on Twitter.
In fact:
While the video is indeed from Pakistan, there is no sectarian angle to the incident.
On breaking the video down into keyframes and running a reverse search, we came across the unedited video on Twitter, shared on September 8. The caption with the video said that tomatoes coming from Iran were being destroyed in Kalat district, Balochistan.
Taking a cue from this, we ran a search with related keywords and found several Pakistani news outlets that reported the incident. According to a report by Dawn, protestors had stopped vehicles carrying imported tomatoes in Kalat and either destroyed or looted the merchandise. Farm owners and growers were among those who were protesting. According to an official quoted in the report, they intercepted a vehicle loaded with tomatoes and threw crates on the road destroying the fruit. Police and paramilitary forces also reached the site of the incident. The Balochistan Zamindars Association, while dissociating itself from the destruction of tomatoes, said they had organized the protest against the government's decision to import tomatoes and onions from Iran and Afghanistan. This is because they believed importing these kitchen staples will lower the price of local produce in the market and cause growers to incur financial losses. It has also requested the government stop imports until local produce hits the market.
Pakistan has recently witnessed record flooding after heavy monsoon rains and melting glaciers, causing the lives of nearly 33 million people to be disrupted. Crops, along with houses, roads, railway tracks, bridges, and livestock, have been washed away. As large parts of the country remain inundated, many have been forced to leave their homes. According to Dawn, in light of this situation, the Pakistan government decided on August 30 to allow the import of onions and tomatoes from Iran and Afghanistan to ensure the supply of essential commodities and stabilize prices in the market.
A video news report by Geo News also carried visuals from the viral video, with the anchor reporting that the incident occurred because local growers were upset that they would incur losses due to imports. We also found another news report by Geo News, which stated that a man had been arrested for throwing off the crates of tomatoes. The report quoted Commissioner Kalat Daud Khilji, who said that one accused had been arrested, while raids are being conducted to arrest the other suspects identified in the viral video.
Another Pakistani news channel, Aaj TV, also carried visuals of the incident in their report and attributed it to the farmers' anger. We also found a tweet by Pakistani journalist Murtaza Solangi, who shared the video on his verified Twitter account and clarified that there was no sectarian angle. Solangi added that protestors wanted the government to stop imports because their crop was ready.
None of the reports mentioned any religious or sectarian angle to the incident. Instead, the incident appears to have occurred due to economic concerns over importing vegetables from any other country.
The verdict:
An incident where angry Pakistani farmers and growers destroyed tomatoes from Iran to protest the government's decision to import vegetables is being shared with the false claim that it was a sectarian issue. The reason was economic and not because Iran is a Shia-majority country, whereas Pakistan is a Sunni-majority. Therefore, we have marked this claim false.