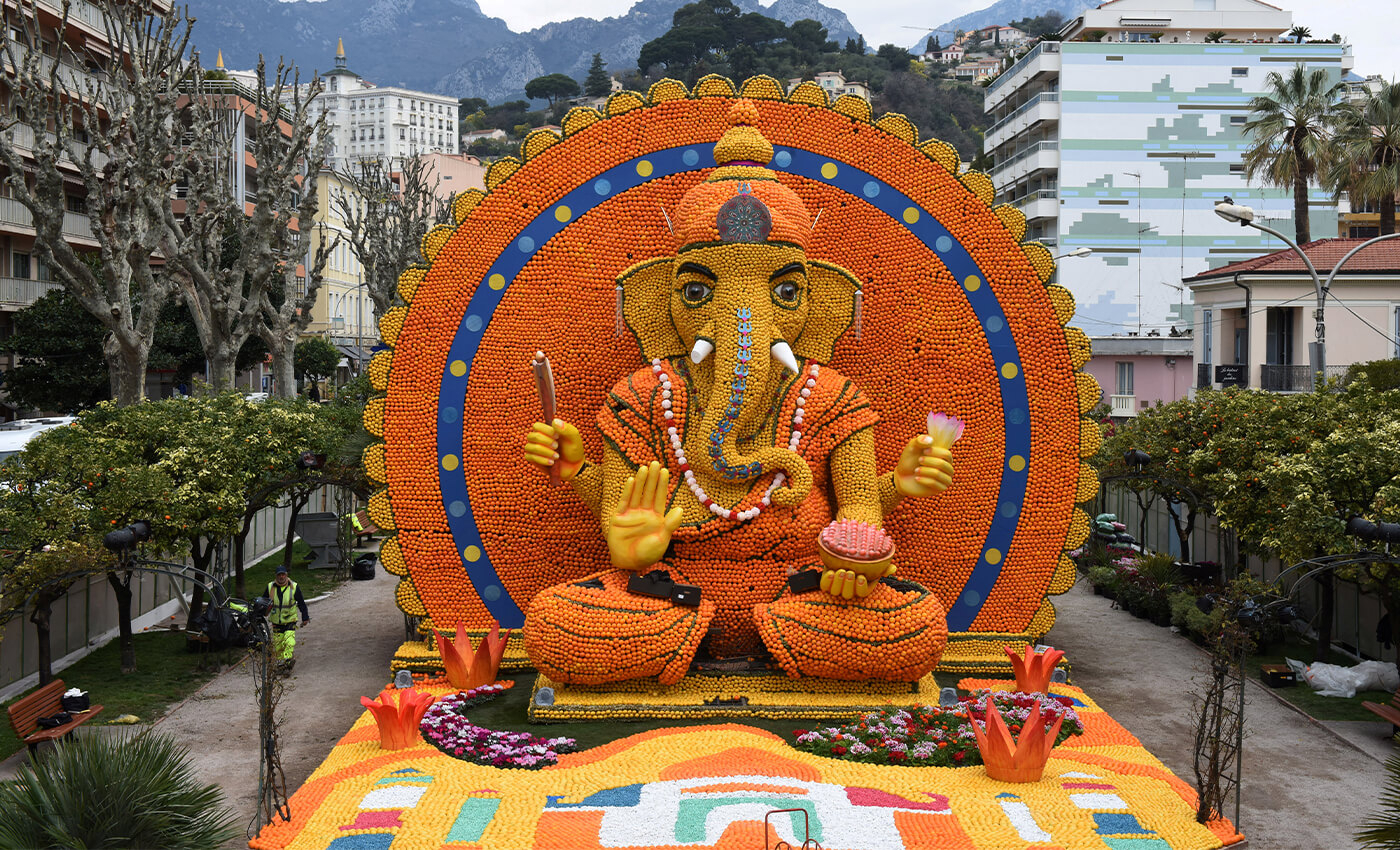 A video of a Lord Ganesha statue made out of oranges from France's Lemon festival in 2018 has been shared with a false narrative.
Context:
Ganesh Chaturthi, or Vinayak Chaturthi, a Hindu festival commemorating Lord Ganesha was celebrated across India on August 31, 2022. Several videos of the celebrations were shared all over the internet. One such Twitter video shared on September 2, 2022, claims that people in Holland celebrated the Hindu festival. The video shows a huge Ganesha idol made up of oranges and lemons. The caption reads, "Holland is said to be the capital of orange in the world…!!!The locals use the best part of their harvest to celebrate the festival of Vinayaka Chaturthi…!!!." The video has garnered more than 3,600 views on the platform.
In fact:
A reverse image search showed that the video dates back to 2018. The video is from a Lemon festival in France. The Ganesha idol from the viral video can be seen in a picture taken by the news agency Reuters. The image caption states, "A sculpture made with lemons and oranges which depicts elephant-headed Hindu god Ganesha is seen during the 85th Lemon festival around the theme "Bollywood" in Menton, France, February 15, 2018."
Comparing the images seen in the viral video and photo shared by Reuters Pictures, we found several similarities in the idols shown in the photo: position of the hand, color combinations, and eye structure. Searching through appropriate keywords like "lemon festival in France," we found an article by Euro Tunnel, a transportation company, that noted that the Fête du Citron(Carnival of Menton) is an annual festival celebrated in the town of Menton, marking the end of the winter season and the coming of spring. The whole town is decorated with oranges and lemons that are locally grown in the area. Several structures and displays are made using the fruits that are later paraded in the entire town for two weeks. The article also adds that a theme is picked every year by local businesses that are adopted for sculpting idols with lemons and oranges grown in that particular season.
Additionally, we also found a video from the festival uploaded on Fête du Citron's official YouTube channel on February 23, 2018. We can spot the same Ganesha idol in the video between the 0:39 second and the 0:40 second mark. The same video was also viral in 2021 with similar narratives that have been debunked by Boomlive and News meter. The same video resurfaced in August 2022, following the Ganesha Chaturthi celebrations.
The verdict:
An old video of the Ganesha idol made during the February 2018 Lemon festival in France is now shared with a false narrative, incorrectly linking it to Holland celebrating Ganesha Chaturthi. Hence, we have marked this claim as false.
Reference links
Reuters Pictures
Fête du Citron