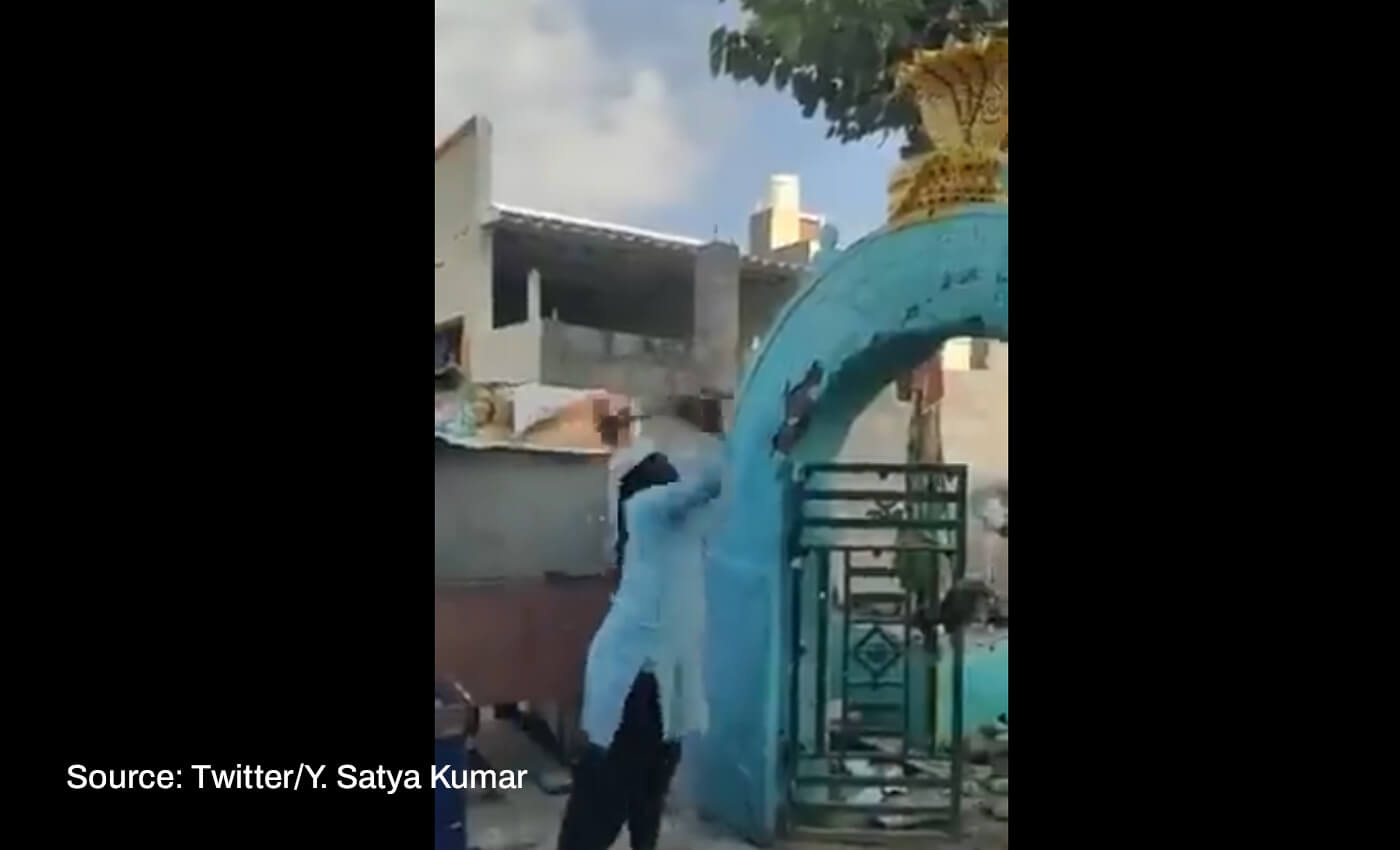 Guntur Police clarified that the video depicts the demolishing of a dargah in Guntur, not a Hindu temple, and there is no communal angle.
Context
A video has been circulating on social media claiming that Muslims demolished an ancient Andhra Pradesh (AP) temple. The 25-second short clip shows a man hitting a wall with a hammer. The post's caption reads, "Jihadis demolished an ancient temple in Andhra Pradesh. Wake up Hindus, wake up this is happening in independent India." Sharing the same video, another user wrote on Twitter, "This is India and India's democracy where scared Indian Muslims are fearlessly destroying Hindu temples. A temple is being demolished in Guntur, Andhra Pradesh." However, this is false. The video shows a Muslim man taking down a dargah (a Muslim worshiping place) in Guntur, Andhra Pradesh, not a Hindu temple.
In fact
A relevant keyword search led us to multiple news articles related to the viral video. According to an India Today article dated October 18, 2022, tension spread for a brief period over the demolition of Bhaji Bhasha Nishani Dargah at LB Nagar in Guntur, Andhra Pradesh on October 12. According to the the report, the dargah was built by AS Ratnam (alias Rahman) 40 years ago, and he told his family members to build a mosque there after his death. In 2020 he died of COVID-19, and the responsibility fell on his daughter, who donated the land for the construction of a mosque in place of the dargah. Some local families didn't support the mosque construction and demanded that the dargah should remain in place as it is.
The New Indian Express reported that the locals intervened in the dargah demolition and informed the police, who responded and took over the situation. The October 17 article quoted the police as saying that no complaints were made since the involved parties refused to do so. The dargah will be closed until the issue is resolved, the police said.

It appears to have been common knowledge in the region that the demolished structure was a dargah and not a temple—BJP National Secretary for Andhra Pradesh Y Satya Kumar, for instance, recognised this when tweeting about the incident.
We also reached out to the Guntur Superintendent of Police Arif Hafeez, who said, "This incident doesn't have a communal angle. There was no temple, and it was a small dargah. Two parties from the same community were fighting over the construction of a mosque."
The verdict
An incident of a dispute between two parties from the same community over a dargah was falsely shared with a communal spin. Therefore, we have marked this claim as false.
Update: This article was amended to better explain the context for citing a statement by a political leader, as it showed there was widespread understanding that the claim in question was false.