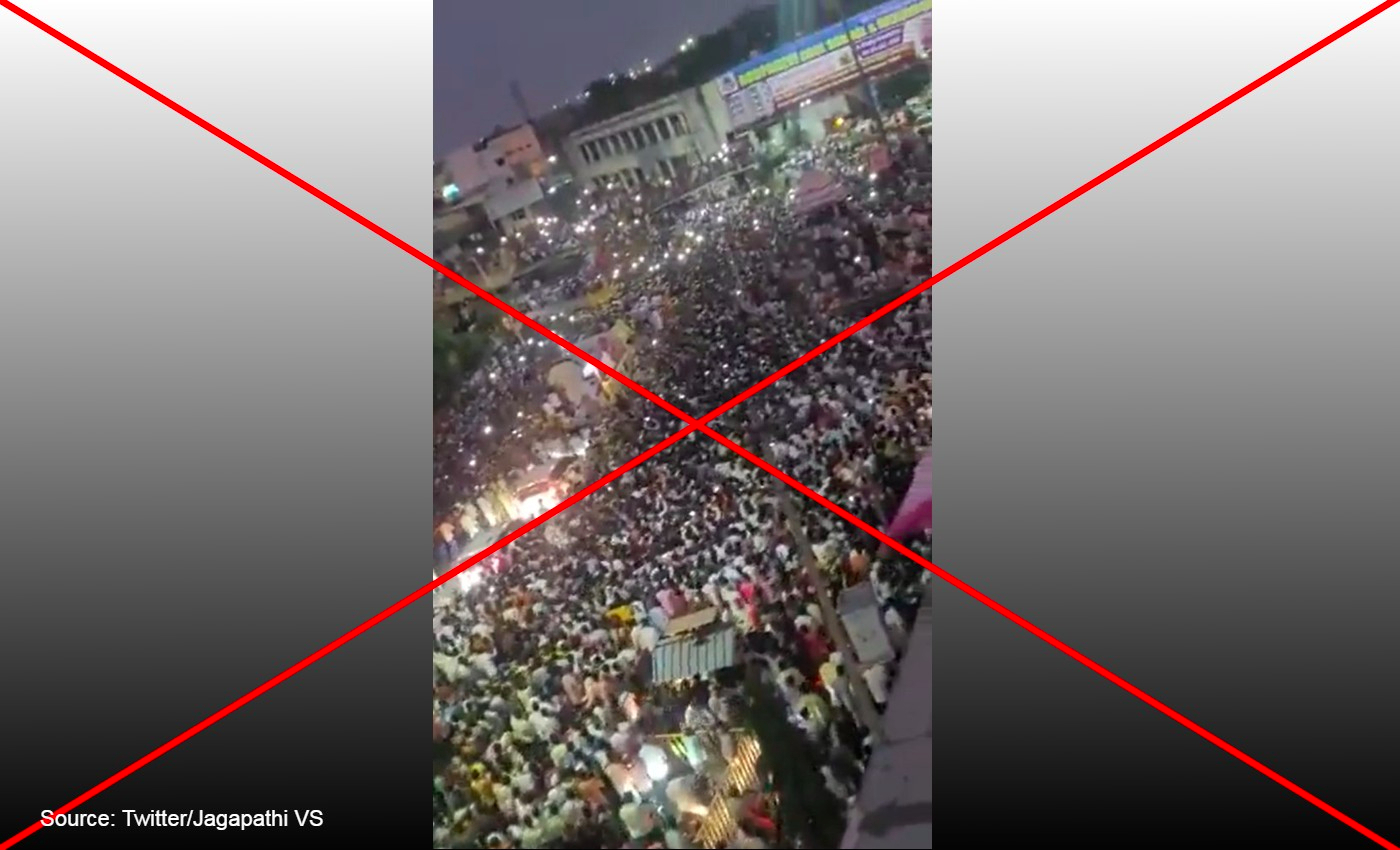 The viral video is from Siddeshwara Swami's funeral procession in Vijaypura, and is not related to Naidu's padayatra in Kuppam.
Context
On January 4, Telugu Desam Party (TDP) leader N Chandrababu Naidu traveled to Andhra Pradesh's Kuppam constituency. His three-day visit was to carry out the "Idhemi Karma" program, where party leaders and activists were going door-to-door in every village to interact with locals. According to the Times of India, when police stopped Naidu's roadshow, his supporters and the police got into a spat. Since the state had banned public meetings and demonstrations on state and national roadways, the police seized his campaign vehicle and issued a notice. Following the incident, Naidu undertook a padayatra, or a walk, in Kuppam.
Videos related to the TDP leader's visit to Kuppam went viral on social media. One such video on Twitter with a Telugu caption read: "Everyone used to stay in their own villages, you created unnecessary quarrels and made everyone become one... If you have the guts to bear it, look here... Kuppam Gadda Chandrababu Adda (translated from Telugu)." The footage shows thousands of people gathering and moving along a few vehicles.
However, the video has been misattributed. It is from Karnataka and not from Andhra Pradesh.
In Fact
Through a Google reverse image search, we found that an old video had been shared with a false claim. The same video was posted on January 4 on S.S. Harshavardhan Gowda's Facebook page, who is the Karnataka state secretary of Bharatiya Janata Party's (BJP) youth wing. The video was captioned in Kannada, "Funeral of Siddheshwar Shri with all state honors."
The same video with a different angle was found on News First Kannada's YouTube channel. The video was captioned in Kannada "Siddeshwara Swamiji Devotees: Sri's final journey is very crowded! | Vijayapura | Newsfirst". At the 16:44 minute mark in the longer video, the same blue board as seen in the viral video can be spotted. Therefore, it confirms that the video is from Vijaypura, Karnataka, not from Andhra Pradesh. TV5 Kannada also uploaded the procession video on its YouTube channel.
The Verdict
Video of Siddeshwara Swami's funeral procession that was held in Vijayapura district in Karnataka was falsely shared with a political angle. It is unrelated to Naidu's padayatra in the Kuppam constituency, Andhra Pradesh. Therefore, we mark this claim as false.