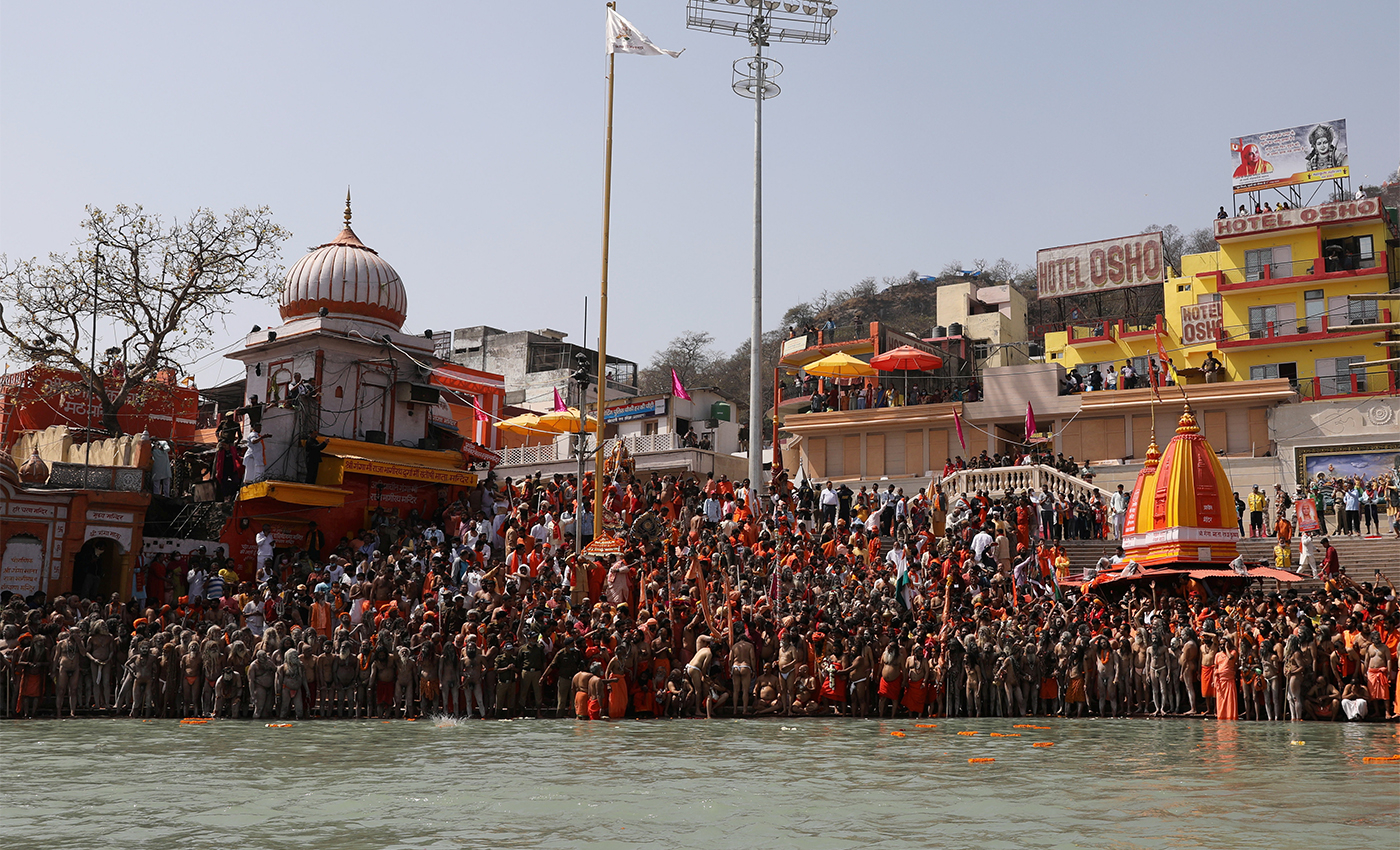 Uttarakhand Police charged Lalchandani Labs and Nalwa Labs for allegedly undertaking 1,00,000 fraudulent rapid antigen tests during the Kumbh Mela.
Uttarakhand Police charged Lalchandani Labs and Nalwa Labs for allegedly undertaking 1,00,000 fraudulent rapid antigen tests during the Kumbh Mela.Despite a considerable increase in COVID-19 transmission during the second wave in India, hundreds of thousands of pilgrims visited Haridwar between April 1 and 30, 2021, for a ceremonial immersion in the Ganges River. The event's flagrant violation of COVID-19 guidelines gained widespread attention.
More than twenty private laboratories were recruited to conduct the COVID-19 testing during the festival.
According to Scroll, some sources revealed that commercial laboratories performed fake tests to meet the Uttarakhand High Court's daily 50,000 testing limit. The special investigation team (SIT) issued notices to the two facilities and a Noida-based private agency that bagged the contract for COVID-19 testing during the holy event.
Lalchandani Labs in Delhi and Nalwa Labs in Haryana's Hisar district, accused of conducting fake tests during the Kumbh, approached the Uttarakhand High Court to have an FIR against them revoked. Max Corporate Services, situated in Noida, which signed contracts with the labs to facilitate and coordinate testing, was also booked. Max Corporate Services has also filed a high court challenge to the FIR. This firm is unrelated to the Max Healthcare Group, reports Hindustan Times.
The Indian Express reports, "The firm made fake entries to make profit," stated the Chief Medical Officer (CMO) S K Jha, who submitted a complaint to the police. Based on CMO's complaint, the Uttarakhand Police lodged an FIR on June 17 against the labs and firm.
During the Kumbh Mela, the labs allegedly did 1,00,000 bogus quick antigen tests. However, after signing a memorandum of understanding with Max Corporate Services, Lalchandani Labs told the Uttarakhand High Court that it had only done 12,000 tests between April 1 and 26. The lab also disputed accusations of embezzlement of crores of rupees.
The laboratories charged a modest fee of 206 per test, with a total price of about 24.74 lakh, not the crores of rupees claimed by the media claimed Vikas Bahuguna, a lawyer for Lalchandani Labs. As a result, the notion that the lab embezzled crores of rupees is entirely false, he mentioned.
Separately, Nalwa Labs filed a case before the high court sought the FIR canceled and interim relief. The facility claimed to have signed a Memorandum of Understanding (MOU) with Max on March 10 but has yet to receive cash or sent personnel to conduct tests at the Kumbh.
According to Parikshit Saini, counsel for Nalwa Labs, Max Corporate Services never asked or requested any technical help, nor were any of our technicians contacted for any training. He said they are a reputable business with a 40-year history. According to him, Nalwa suspended its MoU on April 27 when suspicions of bogus testing arose.
On the other hand, Max denied the claims and said that the company was simply a service provider and not a certified laboratory. Max engaged in agreements with two labs to handle sample collection, testing, data feeding, and report production.
Fake testing allegations surfaced after a Faridkot man reported to the authorities that he had gotten a notification for collecting his COVID-19 report despite never having been tested. The claim prompted an inquiry, which led to over 100,000 false rapid antigen testing results.
The Indian Council of Medical Research web discovered fraudulent entries based on cellphone numbers and addresses of persons who were never examined in real-time. When contacted, several of them stated that they had not even visited Haridwar in April.
Hindustan Times reports that the two labs and the service firm were charged with "negligence, spreading disease, cheating and criminal conspiracy, and under sections of the 2005 disaster management act and the 1897 epidemic diseases act." Three different investigations are investigating the claims. The district administration, the Kumbh Mela administration, and the police SIT each have one.
According to senior superintendent of police D Senthil Aboodai Krishan, the SIT is conducting a simultaneous inquiry into all aspects of the case.
The COVID-19 pandemic has given rise to a lot of potentially dangerous misinformation. For reliable advice on COVID-19, including symptoms, prevention, and available treatment, please refer to the World Health Organization or your national healthcare authority.