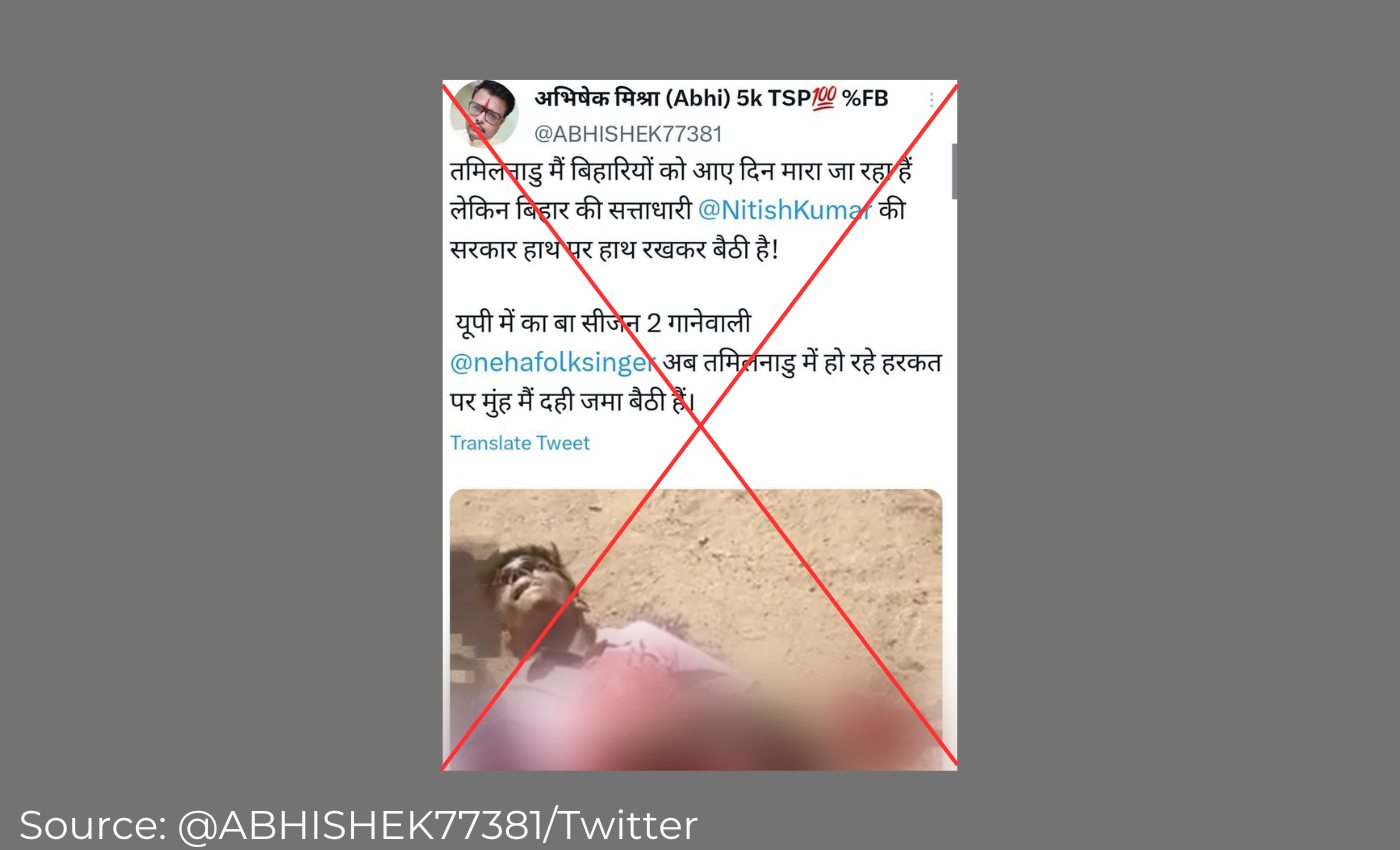 A video of an incident from Karnataka has been falsely shared as one showing a Bihar migrant worker being attacked in Tamil Nadu.
Context
Several videos have gone viral on social media platforms claiming to be those of the alleged assault on migrant workers from Bihar on linguistic grounds in Tamil Nadu. One such video shows a guy lying in a pool of blood. The caption of the post claims that this video was that of a Bihar migrant who was attacked in Tamil Nadu. However, these claims are incorrect.
In Fact
Upon closely analyzing the video, we heard people speaking in Kannada in the background. They were heard saying, "Hey brother, who did this?" "Eh.. even this guy has been stabbed," "Someone, please call an ambulance." This was an indication that the incident could have happened in Karnataka and that there were multiple victims.
By looking for stabbing incidents with multiple victims, we came across a news report about two youngsters being stabbed to death on a cricket ground near Bengaluru. Upon looking for more information on the incident, we found a similar report on the same incident published by the Deccan Herald with pictures of the two victims. From these news reports of the stabbing incident that left two dead, it was clear that the incident happened on February 17, 2023, in Doddabelavangala in Doddabellapura near Bengaluru. The victims were 23-year-old engineering student Bharath Kumar and a 17-year-old pre-university student Prateek.
Logically reached out to a police officer in Doddabelavangala, who confirmed that the viral video was from the February 17 stabbing incident in Karnataka, which took place over a fight during a cricket match. The officer also noted that all the accused and victims were from within the State and that migrant workers were not involved in this incident.
Deccan Herald quoted Mallikarjun Baldandi, Superintendent of Police, Bengaluru Rural, as saying the four accused tried to park their car on the ground and were confronted by the players and organizers of a cricket tournament. The car's glass was damaged in the following brawl, and the four of them left the premises. After some time, they returned and attacked the two victims as they were wearing the shirts of the cricket tournament.
Neither were any migrant workers involved in this incident nor did this incident happen in Tamil Nadu. The Tamil Nadu police have been cracking down on misinformation alleging that migrant workers from Bihar were attacked in Tamil Nadu. The police and the State government have ruled out any widespread attacks on migrant workers in the State. Two helplines have also been started for migrant workers, and an outreach program was also launched to allay their fears.
The Tamil Nadu government collaborated with the Bihar government in addressing the claims made on social media, and TN Chief Minister M.K.Stalin assured that no harm would befall the migrant workers in the State and that they would be protected. Subsequently, FIRs were lodged by the Tamil Nadu police against a few people, including Uttar Pradesh BJP spokesperson Prashant Umrao, CEO and editors of OPIndia, editors of the Dainik Bhaskar, Mohammad Tanveer of the Tanveer Post, and social media influencers like Shubham Shukla and Yuvraj Singh Rajput.
The verdict
Two men were stabbed to death over a fight that ensued after a row over parking a car at a ground in Doddabelavangala in Doddaballapura near Bengaluru on February 17, 2022. A video clip of this incident has been falsely shared, claiming to be an attack on migrant workers in Tamil Nadu on linguistic grounds. Therefore, we have marked this claim as false.