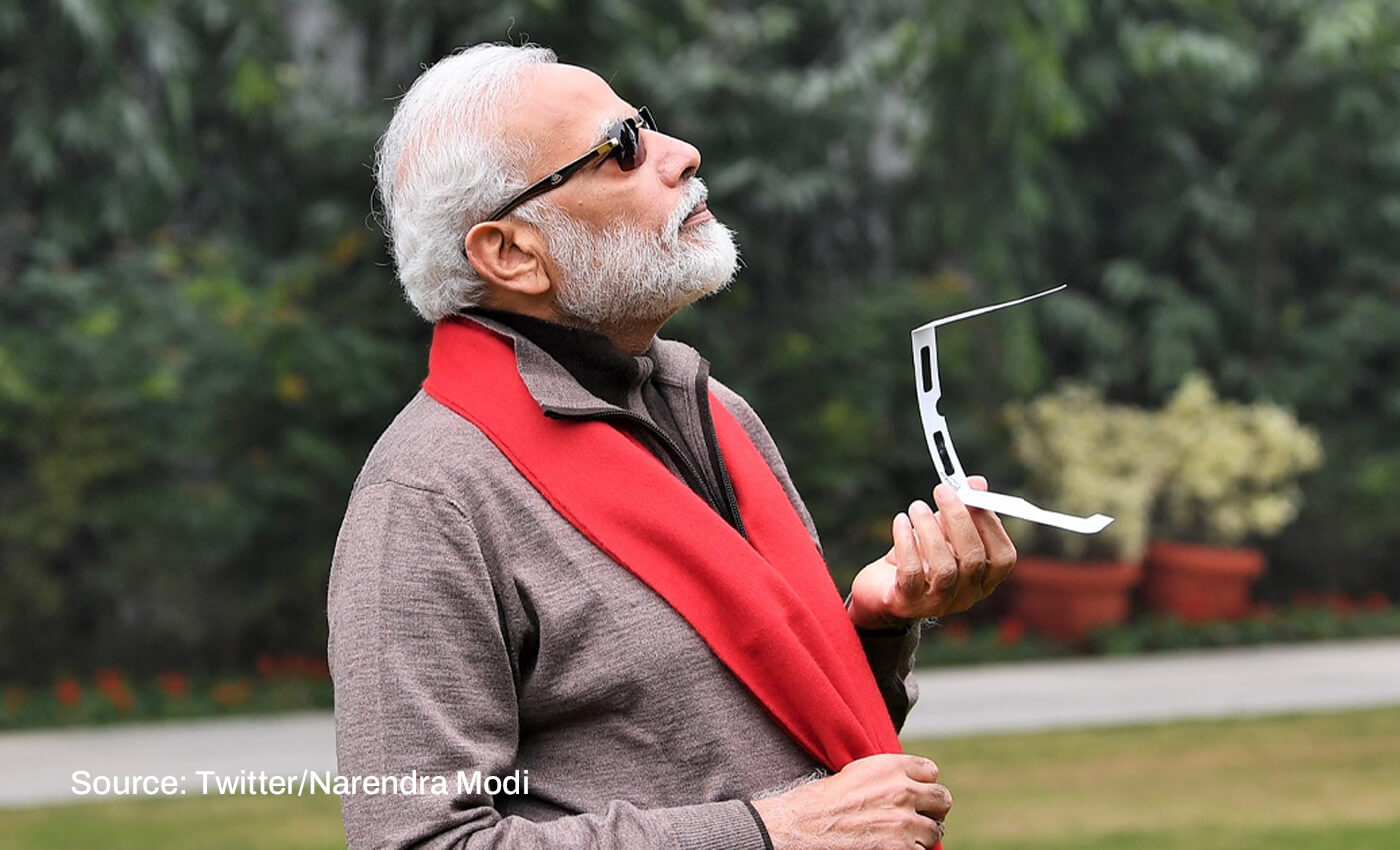 The photo of Modi wearing Maybach sunglasses is not edited; he wore them during the 2019 solar eclipse.
Context
In December 2019, India witnessed a solar eclipse. Prime Minister Narendra Modi was "enthusiastic about the eclipse," according to a tweet from 2019. He continued in the tweet, "Unfortunately, I could not see the Sun due to cloud cover but I did catch glimpses of the eclipse in Kozhikode and other parts on live stream. Also enriched my knowledge on the subject by interacting with experts." The tweet contained photos of him looking at the sky, wearing sunglasses, and holding a pair of what seems to be 3D glasses to help view the eclipse. Modi was heavily trolled for this image; the luxury sunglasses received much attention, and people questioned whether he wore them or if the image was photoshopped.
In fact
In 2019, Business Today reported that the glasses seen in the post were Maybach Artist V sunglasses which cost ₹1.4 lakh at the time. The product description on the Maybach website states that the frame is made of titanium, and the temple is made of wood or horn. Maybach does not specify whether this pair of sunglasses could be used to view eclipses.
According to our image analysis, the photo of Modi wearing the luxury sunglasses is not digitally edited. In light of the Bharat Jodo Yatra in 2022, the Times of India (TOI) published an article on politicians wearing designer or luxury products in recent years, as witnessed at public events. It referred to the 2019 Modi story and stated that he was merely posing with the Maybach glasses and was advised not to look at the eclipse. He was not able to view the eclipse due to cloudy weather. The glasses he held in his hands were a pair of special disposable goggles meant for eclipse viewing.
The verdict
The photo of Modi wearing Maybach sunglasses during a solar eclipse in 2019 is genuine. It is not photoshopped.