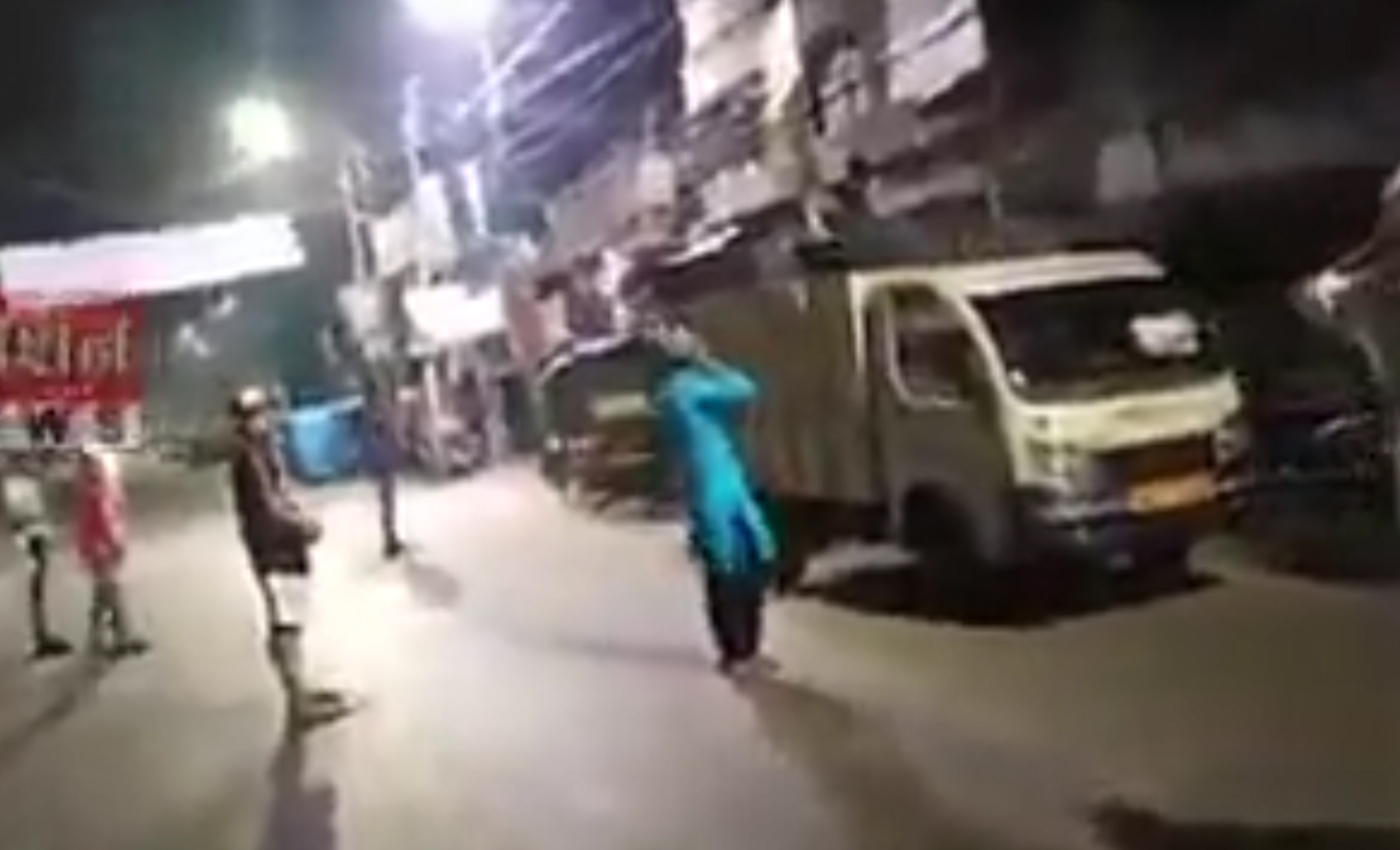 A video from West Bengal during the 2020 lockdown has been misattributed to of demand for loudspeakers ban in mosques in 2022.
A video from West Bengal during the 2020 lockdown has been misattributed to of demand for loudspeakers ban in mosques in 2022.Maharashtra Navnirman Sena (MNS) chief Raj Thackeray demanded the removal of loudspeakers from mosques on April 2, 2022, with Bajrang Dal and Sriram Sena in Karnataka calling for the same. Following that, many false and misleading videos circulated on social media. Madhu Purnima Kishwar (@madhukishwar) posted one such video with a caption stating that Muslims have found an alternative to azan or adhan after right-wing groups called for a ban on loudspeakers in Mosques. Adhan is the Islamic call to prayer recited loudly from mosques at least twice a day.
However, this is misleading. An old video from 2020 has been shared. It doesn't have any connection to the recent demand for a loudspeaker ban.
On analyzing the video, one can see the boards of the shops in the video are in Bangla and English. A Google reverse search from one of the key frames showed the same video on a Facebook account posted on April 24, 2020, saying adhan happened on the streets when mosques were closed. The comments were also in Bangla. Therefore it confirms that the video is from West Bengal.
On April 19, 2020, Indian News Nation uploaded the same video along with the report that adhan was called when mosques were closed during the countrywide lockdown. Therefore it confirms that the video is old and unrelated to the recent loudspeaker ban.
This is not the first time that a ban on loudspeakers has been enacted, with many incidents having been reported in previous years.
On October 28, 2005, the Supreme Court of India (SC) gave a Judgement on loudspeakers usage, stating that loudspeakers cannot be used without written permission from the authority and cannot be used at night between 10 pm to 6 am, adding that the state government is responsible for deciding on the usage of loudspeakers.
Even after the SC order, different states have filed Public Interest Litigations(PILs) seeking a ban on loudspeakers in mosques. In 2016, the Bombay High Court ordered that no religious sector could claim fundamental rights for using loudspeakers. On June 26, 2018, the Uttarkhand High court set the loudspeaker decibel limit to five, but in July 2020, it lifted the ban on loudspeakers. Karnataka High court banned the use of loudspeakers after 10 pm in 2018. In July 2019, Punjab and Haryana High Court ordered loudspeakers to be used only with written permission. Union Territory Chandigarh, along with Punjab and Haryana, ensured that no loudspeakers were used anywhere, including temples, mosques, and gurudwara, without prior permission, even during the daytime. On May 15, 2020, Allahabad High court ordered that azaan or adhan should be recited by the Islamic priest at spoken volume, without the assistance of an amplifying device or loudspeaker, India Today reports.
On April 20, 2020, the Times of India (TOI) published that Muslim religious leaders had called the community to offer prayers at home and follow COVID-19 rules because of the pandemic. "Only the imam and few functionaries will pray inside the mosques following social distancing," said Naseer Ebrahim, a trustee of Nakhoda mosque, reported TOI.
We conclude this claim to be misleading because a video from 2020 in which Muslims offered prayer during lockdown has been taken out of context and does not relate to current bans of loudspeakers in mosques.