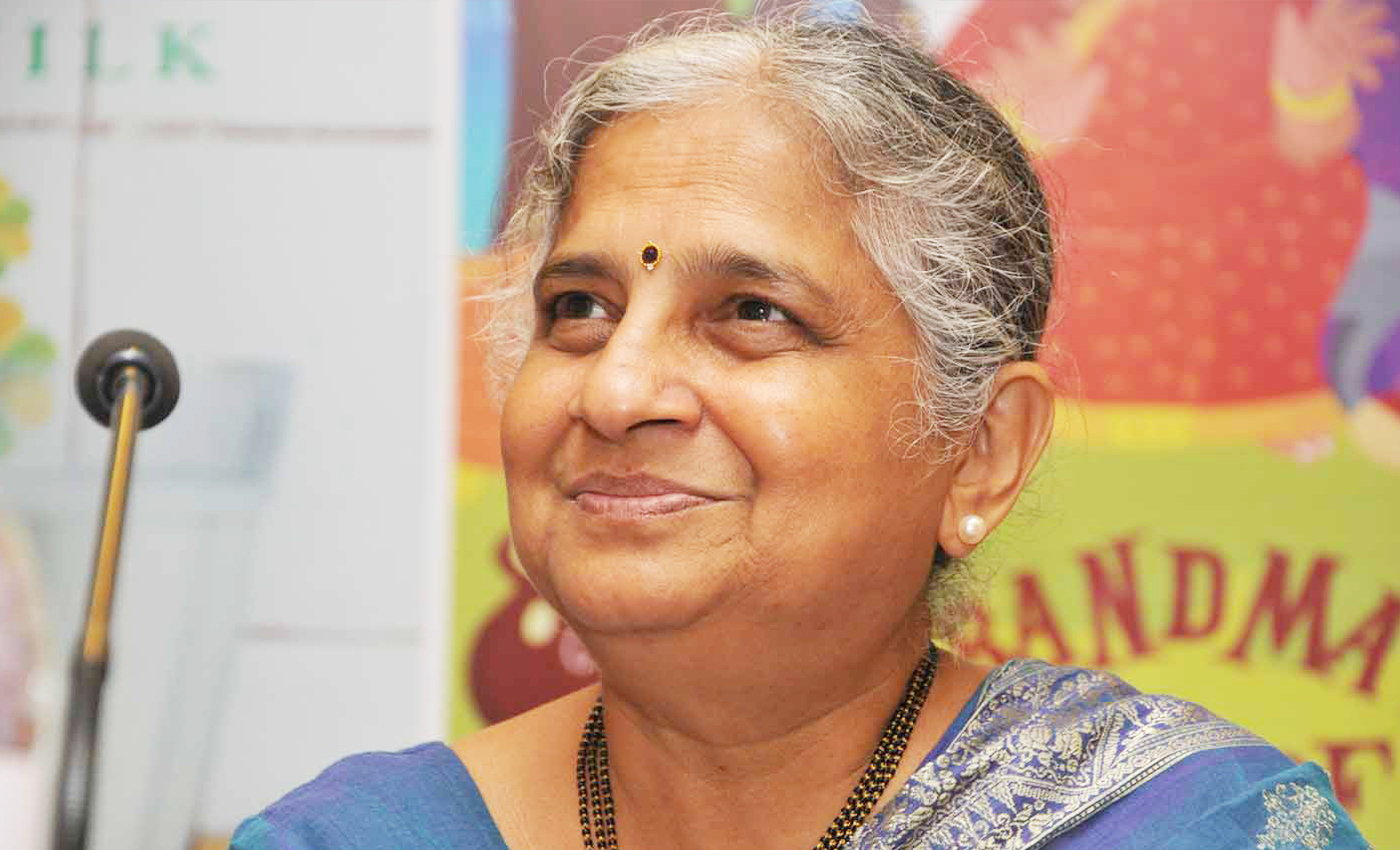 An anecdote written by Murthy about a 14-year-old girl she met on a train has been falsely edited and shared as Murthy'so own story from her childhood
Context
A claim related to Indian author and philanthropist Sudha Murthy's childhood life is doing rounds on social media platforms and has even been shared by some websites. According to a post on Facebook, a 14-year-old runaway girl who was once found traveling in a train without a ticket grew up to be Sudha Murthy—the chairperson of Infosys Foundation and wife of Infosys founder NR Narayana Murthy. The post claims that the girl was hiding under the seat while traveling on a Mumbai to Bangalore train when a Train Ticket Examiner (TTE) caught her. A woman named Usha Bhattacharya came forward and helped the girl. The girl told Bhattacharya that her name was Chitra. The post then claims that after some years, Bhattacharya ran into Chitra at a restaurant in San Francisco. Chitra thanked Bhattacharya for her help and revealed that her name had changed to Sudha Murthy and that she had married a man named Narayan Murthy. The post suggests that Murthy had a hard childhood.
In Fact
On searching with relevant keywords, we found a story, 'Bombay to Banglore' written by Sudha Murthy on Google Books. According to the pages made available on Google Books, the story was taken from the book 'The Day I Stopped Drinking Milk' published by Penguin Books.
According to the story, Murthy boarded a Udyan Express at Gulbarga railway station and met an abandoned girl named Chitra on the train. She bought Chitra a ticket for Banglore—the last stop. Chitra was then sent to a shelter that was run by a man named Ram. The shelter was supported by the Infosys Foundation. Chitra completed her education and was always in touch with Murthy. Later she moved to the U.S. to pursue her career. After a few years, when Murthy visited San Francisco for "Kannada Koota" she met Chitra in a restaurant. When she tried to pay the bill at the restaurant. she found out that Chitra had already paid it. When Murthy asked her why she paid the bill, Chitra said, "Because you paid for my ticket from Bombay to Bangalore!"
The Penguin Books (Penguin Random House India) website confirmed that the story 'The Day I Stopped Drinking Milk, The Life Lessons From Here and There' was authored by Sudha Murthy, and was published in August 2012. According to the website, the book is a compilation of stories of some remarkable people Murthy met in her lifetime.
An interview of Sudha Murthy was uploaded on the YouTube channel Bijish Madhavan on November 16, 2020. In the video, Sudha Murthy says she grew up in a village in North Karnataka and shares how she spent her childhood in her village. She also shares that her grandparents, parents, and siblings are well-educated, and she followed their path. Hence, it proves that she grew up with her family and had not run away from her village.
The Verdict
Sudha Murthy wrote the story of a young girl named Chitra titled 'Bombay to Bangalore' for one of her books. This story was misinterpreted and maliciously edited by social media users to mislead people. Hence, we mark this claim false.