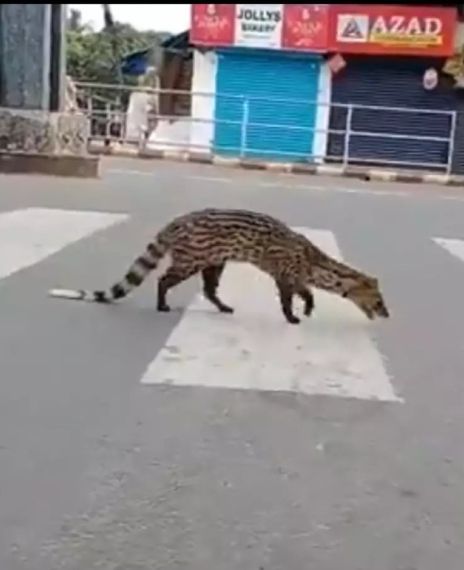 A tweet by an IFS personnel disproves that the video is not of a Malabar Civet, but rather a Small Indian Civet roaming the Kozhikode streets.
A tweet by Indian Forest Service personnel Parveen Kaswan mentioned that the Small Indian Civet was probably a sick one seen walking on the empty road in Kerala.
According to the India Today article published on 26 March 2020, in an attempt to fight the novel coronavirus, Prime Minister Narendra Modi had imposed a 21-day lockdown on the entire nation, and as a result, many animals were seen to be roaming empty streets across the country, including a small Indian civet seen during daytime in Kozhikode, Kerala.
As per the Information published by Kerala State Council for Science Technology and Environment, a similar species known as the Malabar large-spotted civets are rare with a population believed to be less than 250 surviving in the wild since 1990.
The images of similar species published on the database show that the Small Indian Civet is similar in appearance to the Malabar Civet with its striped tail and black-and-white markings but it is smaller in size. Hence the viral image is considered to be misleading.
The COVID-19 pandemic has given rise to a lot of potentially dangerous misinformation. For reliable advice on COVID-19 including symptoms, prevention and available treatment, please refer to the World Health Organisation or your national healthcare authority.